Fashion /
Celebrity Style Alert: Sonakshi Sinha Slays In Black & White Stencils
Celebrity Style Alert: Sonakshi Sinha Slays In Black & White Stencils
Fashion Aug 02, 2022
We love seeing what Bollywood has in store when it comes to personal style. Sonakshi Sinha is no exception as she has really embraced bold prints and edgy streetwear-inspired looks. In her latest post on Instagram, she is seen donning an eye-catching graphic co-ord set from the clothing brand Huemn. 
The 3-piece set includes a sleeveless crop top, a pair of fitting pants and a full-sleeved blazer.
Because of her ensemble being the main event, she made sure the focus is where it should be, with a clean beauty look.
Main Image Photo Credit: www.instagram.com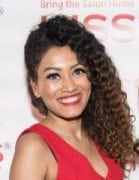 Author
Marriska (@marriska.fernandes) is an entertainment expert who has been creating celebrity, movies and pop culture content for digital outlets for over ten years. From reporting headline-grabbing celebrity news to reviewing movies to interviewing Hollywood and Bollywood's finest actors and industry...