Fashion /
Deepika Padukone Comes Up Roses In Stunning Floral Frock
Deepika Padukone Comes Up Roses In Stunning Floral Frock
Fashion Feb 23, 2023
One of the strongest trends to come out so far is the embrace of florals and Deepika Padukone jumped right in for her "Pathaan" presser wearing a stunning floral midi-dress by Gauri & Nainika that had us taking a double take. There is nothing quite like being covered in roses and we are so ready for this style inspo! Check out the full look here!
To celebrate the success of her recent film Pathaan with Shah Rukh Khan and John Abraham, Deepika Padukone stunned in a floral ensemble. With the record-breaking film, we just had to hone in on her impeccable style that has all the promises of Spring!
She looked radiant in a gorgeous red floral midi dress that boasted a plunging neckline from designer brand Gauri & Nainika. This vintage vibe is brilliant and we love the colourful palette. Simply cheerful!
Deepika always stuns in floral motifs, and the billowy silhouette added to her radiant and feminine look. This is truly the best style inspo for Spring!
Main Image Photo Credit: www.instagram.com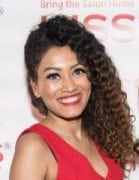 Author
Marriska (@marriska.fernandes) is an entertainment expert who has been creating celebrity, movies and pop culture content for digital outlets for over ten years. From reporting headline-grabbing celebrity news to reviewing movies to interviewing Hollywood and Bollywood's finest actors and industry...