Fashion /
Bollywood Is Sari Not Sorry With The Return Of The Fashion Staple
Bollywood Is Sari Not Sorry With The Return Of The Fashion Staple
Fashion Aug 04, 2023
There seems to be a resurgence as of late, of the timeless sari. Whether it's thanks to Bollywood and the epic collection of saris worn by Alia Bhatt during her never-ending PR blitz for her latest film, or it could be the desire to get back to the classic silhouette, as evidenced by the sari-donning front row at Manish Malhotra's latest bridal couture show. Whatever the reason we are thrilled to see the resurgence of this classic garb! Check out the latest saris for some serious style inspo!
In the latest 'Rocky aur Rani,' Alia Bhatt can be seen wearing a plethora of beautiful Manish Malhotra saris. Even during the press tour, Alia wore countless gorgeous saris. But it isn't just Alia who has been on our radar. Here's some celebs crushing the summer sari trend.
Alia Bhatt
Deepika Padukone
Manish Malhotra hosted a lavish Bridal Couture show in Mumbai. Deepika wore a gorgeous ivory cream sari from the collection.
Kiara Advani
Kiara wore a pretty hot pink-coloured chiffon sari n The Kapil Sharma Show set giving Barbie core vibes this summer.
Nora Fatehi
Nora wore a stunning midnight blue ombre sequin pattern saree at the Manish Malhotra Bridal Couture presentation.
Janhvi Kapoor
Janhvi's monsoon hues were in full force when she donned a blue and green sari for her film Bawaal.
Kareena Kapoor Khan
Draped in a gorgeous pink sequin sari, Kareena shared on Instagram earlier this year, "Main apni favourite hoon." She wore this pretty number for Sidharth Malhotra and Kiara Advani's reception party.
When it comes to returning to the classics, especially the sari, we can't get enough!
Main Image Photo Credit: www.instagram.com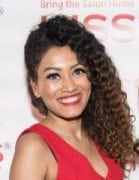 Author
Marriska (@marriska.fernandes) is an entertainment expert who has been creating celebrity, movies and pop culture content for digital outlets for over ten years. From reporting headline-grabbing celebrity news to reviewing movies to interviewing Hollywood and Bollywood's finest actors and industry...