Fashion /
Deepika Padukone Is A Whole Mood In Striking Black Sari
Deepika Padukone Is A Whole Mood In Striking Black Sari
Fashion Mar 28, 2023
Deepika Padukone is a having a moment. With her Pathaan film breaking historic box office records, shaking up the Paris fashion scene for Louis Vuitton, and showing Hollywood what South Indian actors can do at the Oscars, we can't get enough. So when she showed up on her Insta in this striking black sari number, we took a double take because I mean, how could you not? 
Deepika Padukone attended the Indian Sports Honours event in Mumbai with Ranveer Singh and father Prakash Padukone on Thursday and was serving nothing but looks.
She wore a gorgeous black saree from Sabyasachi collection that featured gold embroidery on the borders.
She paired her saree with a full-sleeved black blouse with cut-out detailing on the back. Deepika shared on Instagram: "Keeping it classic…(white heart emoticon)." She truly is.
We are loving the classy and timeless look from Deepika!
Main Image Photo Credit: www.instagram.com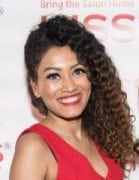 Author
Marriska (@marriska.fernandes) is an entertainment expert who has been creating celebrity, movies and pop culture content for digital outlets for over ten years. From reporting headline-grabbing celebrity news to reviewing movies to interviewing Hollywood and Bollywood's finest actors and industry...