Fashion /
Kiara Advani's Stunning Bridal Look Is Our New Obsession
Kiara Advani's Stunning Bridal Look Is Our New Obsession
Fashion Feb 15, 2023
Bollywood cuties Kiara Advani and Siddharth Malhotra finally tied the knot in a lavish ceremony in Jaisalmer, Rajasthan. With the few pictures that have been sizzling on social we couldn't get over Kiara's gorgeous bridal look by none other than Manish Malhotra. She continues the theme of soft hues while sparkling with elegant jewels and we are obsessed. We are ready for this bridal trend! Check out our style breakdown right here!
Kiara Advani and Sidharth Malhotra tied the knot at Suryagarh Palace in Jaisalmer last week and the bride looked stunning.
She wore a gorgeous Manish Malhotra custom ombre lehenga in soft pink rose and looked looked absolutely breathtaking in her outfit, which featured intricate embroidery and embellished with Swarovski crystals. She paired it with heavily embellished choli and a sheen dupatta.
For her reception, she wore a cocktail monochrome gown also by Manish Malhotra. The mermaid-cut gown had a white satin bodice and a black velvet skirt.
We are loving the unconventional reception look and the muted soft pink bridal hues.
Main Image Photo Credit: www.instagram.com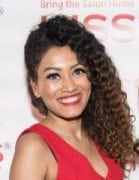 Author
Marriska (@marriska.fernandes) is an entertainment expert who has been creating celebrity, movies and pop culture content for digital outlets for over ten years. From reporting headline-grabbing celebrity news to reviewing movies to interviewing Hollywood and Bollywood's finest actors and industry...