Showbiz /
Flick Lits: We Need To See These Books On The Big Screen STAT
Flick Lits: We Need To See These Books On The Big Screen STAT
Showbiz Jun 08, 2018
With movie adaptations going strong at the box office, we couldn't help but wonder what else we'd like to see as a movie. From psychological thrillers to rom-coms to emotional and compelling stories, we've decided that we need to see these books on the big screen STAT!
#1 New York Times Bestseller The Woman in the Window by A.J. Finn follows Anna Fox, a woman who lives alone and spies on her neighbours regularly. She spends her day drinking wine and watching old movies. One night when Anna gazes out her window, she sees something she shouldn't and her world begins to crumble. Word on the street is that there's already a director hired and a movie is in the works.
The Girl on the Train author Paula Hawkins returns with a psychological thriller titled Into the Water. A single mother turns up dead at the bottom of the river and leaves behind a fifteen-year-old girl. She is not the first body to be found in these waters and there are secrets waiting to be uncovered. We'd sure like to see this one turn into a movie!
Chetan Bhagat's book always make a great movie — whether it's 3 Idiots, 2 States or Half Girlfriend. One novel we'd like to see turn into a movie is One Indian Girl. It follows Radhika Mehta who is an intelligent, successful girl who is soon getting married. Chetan Bhagat writes for the first time in a female voice and brings to life the story of a modern Indian girl. This movie will be pretty relevant and no doubt, we need more feminist movies. 

Revenge Wears Prada: The Devil Returns
Lauren Weisberger's The Devil Wears Prada was a super success as we feared Miranda Priestly and rooted for Andy Sachs. Eight years later, Andy and Emily, her former nemesis, have joined forces to start a high end bridal magazine, which has quickly become quite popular. Now they call all the shots! But Andy discovers that not everything is as it seems and she finds out the hard way. Don't you want to know how Andy's life has turned out after working for the devil?
Jodi Piccoult's books are heavy and known to tug at the heart's strings. Her 2013 novel Nineteen Minutes follows Peter Houghton, who after enduring years of cruel bullying from his classmates, snaps one morning, and in nineteen minutes, ten residents of Sterling are dead. As the trial unfolds, Peter's testimony reveals how the residents of Sterling had a huge hand in turning him into a killer. It packs an emotional punch, but quite a relevant and topical story that perhaps needs some screen time.
Let Me Lie
Clare Mackintosh brings an explosive psychological thriller with Let Me Lie. Two years ago Tom and Caroline Johnson committed suicide, leaving their adult daughter shocked. Now with a young baby herself, she feels her mother's presence and is determined to find out what really happened to her parents. It's a thriller that we'd like to watch unfold on the big screen.
Stephen King's The Shining sequel Doctor Sleep sure deserves to be seen on the big screen..and it will be. Mike Flanagan has been set to direct the film. The story picks up with the now-adult Danny Torrance, who's inherited the anger of his murderous father. However, when Danny becomes sober, his psychic abilities return, giving him a connection with psychic teen Abra.
Nicholas Sparks' See Me is a classic romance fueled with suspense. It follows Colin Hancock, who has a history of violence, and Maria Sanchez, a hardworking daughter from an immigrant family. A chance encounter will change their lives forever, but Maria's past still has a strong hold on her. We'd like to see a Nicholas Sparks adaptation any time!
Kevin Kwan's Crazy Rich Asians is coming to the big screen this summer, but we're already anticipating the big screen adaptation of his third novel Rich People Problems. It takes us behind the scenes and reveals long-buried secrets and rich people problems of Asia's most privileged families. If this book is any indication, the movie will be a hit!
Main Image Photo Credit: L-R: Simon & Schuster, Penguin Random House & Harper Collins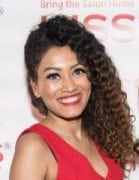 Author
Marriska (@marriska.fernandes) is an entertainment expert who has been creating celebrity, movies and pop culture content for digital outlets for over ten years. From reporting headline-grabbing celebrity news to reviewing movies to interviewing Hollywood and Bollywood's finest actors and industry...