Showbiz /
Be The Best Beach Bum With Our Cool Summer Reading List
Be The Best Beach Bum With Our Cool Summer Reading List
Showbiz Jun 22, 2018
It's finally summer and we couldn't be more happier to chill with a book on the beach. A good read in the sun is all it takes to give yourself some me-time. To make the most of your precious summer sessions check out these page-turners with our cool summer reading list! So sip away at your margarita and indulge!
From Twinkle, with Love
A rom-com for all ages, From Twinkle, with Love by Sandhya Menon follows a 16-year-old Indian-American girl who aspires to be a famous filmmaker and find "the one." Soon, she falls in love with fellow geek Sahil while directing a movie with him, even though she initially had a crush on his brother. What better way to escape and enjoy summer than by reading a cinematic comedy?
Sharp Objects
Gillian Flynn's Sharp Objects is coming to the small screen this summer.  It follows a young reporter Camille who travels to her hometown following the murders of two pre-teens. As she tries to get to the bottom of this story, she realizes she first has to fight her own demons from her past.
The Boat People
Sharon Bala's debut novel The Boat People was a finalist for the 2018 Amazon.ca First Novel Award. It is inspired by a real story of a ship which carried a group of Tamil refugees fleeing Sri Lanka at the end of the civil war and they arrived in Canada. It is told from the viewpoint of a refugee, his lawyer and the woman charged with adjudicating his case.
Law Girl's Bump in the Road
Author Leia London (the pen name of Jasmine Daya) brings to life a story of a young woman who is ready to embark on her career as she is almost done with her law school in Law Girl's Bump in the Road. However, on an annual school trip she discovers that she is pregnant and unsure of how to respond to this, let alone tell her husband. Marriage and motherhood are dealt in a new way in this novel.
The Outsider
Stephen King's chilling novel The Outsider follows the investigation into the death of an 11-year-old boy and the evidence points to a popular citizen, who's a teacher and father of two. As the investigation expands, horrifying answers are revealed.
My So-Called Bollywood Life
This novel by Nisha Sharma is a hilarious take from a very filmi writer and will appeal to the desis who enjoy a slice of Bollywood every now and then. It follows high school senior, Vineeta "Winnie" Mehta, who is dumped by her classmate Raj. With the help of Shah Rukh Khan (yes, the King of hearts), who gives her life advice in her dreams, she finds her way to happiness.
Vox
In the era of the #MeToo movement comes a strong and though-provoking book sent in the United States. Vox  follows a time where the population is silenced and women are only allowed to speak a hundred words per day. And this is just the beginning. So how does one use her 100 words to be heard?
Main Image Photo Credit: Penguin Random House, Simon & Schuster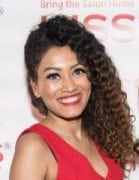 Author
Marriska (@marriska.fernandes) is an entertainment expert who has been creating celebrity, movies and pop culture content for digital outlets for over five years. From reporting headline-grabbing celebrity news to reviewing movies to interviewing Hollywood and Bollywood's finest actors and industr...