Showbiz /
A Truly Lit Night: Superstar Poet Rupi Kaur Gets A Brampton Arts Walk Of Fame Award
A Truly Lit Night: Superstar Poet Rupi Kaur Gets A Brampton Arts Walk Of Fame Award
Showbiz May 25, 2018
The world-famous literary sensation returned to her hometown for an encore performance and a unique well-deserved recognition. Superstar poet Rupi Kaur gets a Brampton Arts Walk Of Fame Award.
Having recently returned from her three-month international tour, Kaur has taken the world by storm with her poetry. Her latest book, the sun and her flowers is an instant global bestseller comes not long after her debut milk and honey, which was America's best selling book of 2017.
An Evening with Rupi Kaur, co-presented by the City of Brampton, The Rose and Ontario Sikh Heritage Month, captured the magic of her stage performance which was interspersed with musical interactions of poetry, art and theatre. Surrounded by a circle of flower petals on stage, Kaur did a 90-minute set where she performed a selection of poems from her books.
Tickets to her show sold-out in less than 24 hours, with an audience of over 800 people. The emcee who introduced Kaur to the stage was Rapinder Kaur, Registered Arts Therapist with Art As Therapy. Special guests of the evening included Mayor of Brampton, Linda Jeffrey and Federal NDP Leader Jagmeet Singh, who presented Kaur with the Love and Courage Award. Rupi's parents were also present on stage with her to receive the Brampton Arts Walk of Fame Award.
The other 2017 Walk of Fame inductees included Director X, who has helmed music videos for stars like Drake and Rihanna, Zarqa Nawaz, creator of the long running  hit CBC show Little Mosque on the Prairie and the late William Perkins Bull, a historian of Peel County.
Kaur's poems have touched many lives as her work explores themes of love, loss, trauma, healing, migration and revolution. She has over 2.6 million followers on Instagram and was named Forbes "30 under 30" and BBC's "100 Women of 2017".
Main Image Photo Credit: Christina De Melo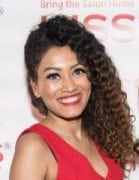 Author
Marriska (@marriska.fernandes) is an entertainment expert who has been creating celebrity, movies and pop culture content for digital outlets for over ten years. From reporting headline-grabbing celebrity news to reviewing movies to interviewing Hollywood and Bollywood's finest actors and industry...