Showbiz /
Lock Her Up! You Won't Believe That These Celebs Have Done Jail Time
Lock Her Up! You Won't Believe That These Celebs Have Done Jail Time
Showbiz Apr 27, 2018
With Bill Cosby's guilty verdict on three counts of aggravated indecent assault which may get him 10 years a piece, we couldn't help but revisit other instances where Bollywood and Hollywood has had their unfortunate brushes with the law. Be it D.U.I or other offences, you won't believe that these celebs have done jail time!
Sanjay Dutt
The most infamous Bollywood prisoner was Sanjay Dutt who was sentenced for carrying an illegal firearm at a time when Mumbai was on heightened security alerts due to the religious riots and the Mumbai blasts of the early 90s. His controversial sentence hearing was followed parole and appeals dotting his 23-year journey in and out of the courts.  In May 2013, he was handed a 5-year jail sentence which he completed in 42 months (in addition to the 18 months he served in 2007-2008). He was finally released on good behaviour in February 2016.
Salman Khan
Bollywood superstar Salman Khan was found guilty for a 2002 hit-and-run in 2005, through the years he was in and out of the court system filing various appeals. In 2015 the Indian Supreme Court overturned his guilty verdict due to lack of evidence. He also served one year in prison in 2006 for hunting a clack buck while in Rajasthan. Earlier this April, he was sentenced to five years in jail for killing an antelope in 1998 a charge for which he has already confirmed he will be appealing.
Lindsay Lohan
Before her move to Dubai three years ago, this actress was known more for her run-ins with the law than for her on-screen work. Her charges included D.U.I, theft and cocaine possession which gave her jail time (which usually was followed by rehab stints) with prison time ranging from a few hours to a few days — thanks to the overcrowding problem in Los Angeles jails.
Martha Stewart

TV chef Martha Stewart served five months in prison for conspiracy and obstruction of justice in 2004. The sentence came as a shock as it was contrary to her carefully crafted wholesome image.
Govinda

Govinda spent time in jail for slapping someone on the sets of Money Hai Toh Honey Hai in 2007. Even though on screen he was always the jolly one, in real life the actor's temper has often got him into trouble.
Paris Hilton
In 2007, heiress Paris Hilton was arrested after she  violated her probation following a D.U.I arrest. She was given a 45-day jail sentence due to the overcrowding jails of Los Angeles.
Nicole Richie
The former reality TV star was arrested for D.U.I in 2007. She was given a four-day sentence but only served 82 minutes and was released.
The actor served 15 days for rash and negligent driving in 2010 when he hit two people with his bike.
Main Image Photo Credit: Instagram.com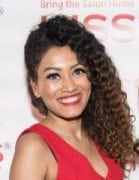 Author
Marriska (@marriska.fernandes) is an entertainment expert who has been creating celebrity, movies and pop culture content for digital outlets for over ten years. From reporting headline-grabbing celebrity news to reviewing movies to interviewing Hollywood and Bollywood's finest actors and industry...