Showbiz /
Look At That Face! South Asian Models Who Are Ruling The Ad World
Look At That Face! South Asian Models Who Are Ruling The Ad World
Showbiz Mar 30, 2018
Are you having an"I've seen her before" moment? Don't worry you're not alone. South Asian models are definitely dominating various luxury campaigns and are popping up on runways, theatres, television and online. Check out our list of South Asian models who are ruling the ad world! 
Some models are born and raised in India, while others are born abroad and have made a name for themselves. Many models from India were told their gorgeous darker skin tone and thin figure weren't in line with the Indian fashion silhouette while such features were highly sought after internationally. Now, more mainstream luxury campaigns and runways are seeking diverse women from various backgrounds to take centerstage. We all know Priyanka Chopra has taken over Hollywood. Well, there are more.
Neelam Gill
British-born model Neelam Gill was the face of the Burberry campaign, making her the first female of Indian descent to book Burberry. Not to mention, it was her first job ever as a young 19-year-old. Now, four years later, the 23-year-old has appeared in British Vogue and is one of the few women of South Asian heritage to become a L'Oréal Ambassador.
Shanina Shaik

This Pakistani-Australian model has been modeling since she was 8-years-old. She has walked the ramps for some of the biggest names in fashion —  from Vivienne Westwood to Tom Ford and Jason Wu. She's often spotted on the Victoria's Secret runway and has landed the covers for Cosmopolitan, Elle, Vogue India (with Shah Rukh Khan no less!) and more. She's also been the main face for Australia's swimsuit label Next.com.
The actress, model, Cannes fixture and L'Oréal Paris Ambassador was also seen in Coldplay's "Hymn for the Weekend" as she donned a traditional lehenga choli. While Kapoor has no plans to cross over to Hollywood, she sure has got the attention of some across borders.
Pooja Mor
Noted by Business of Fashion as one of  "The People Shaping the Global Fashion Industry", this Indian native from Gujrat moved to New York City and has been on shoots for Vogue India and Vogue Italia. She has also walked the runways for Louis Vuitton, Stella McCartney, Alexander McQueen and Elie Saab. She also became the face for a Tory Burch ad campaign.
Prateek Jain
The first Indian-born model to make headlines in Milan as he walked the runways for Italian brands and shot several international campaigns including Enrico Caveri and Cavagan.
Rasika Navare
This young model from Pune is a successful star on the horizon. She landed her first of many international campaign with Smashbox Cosmetics, followed by Sephora Canada, Givenchy Middle East and more.
Kelly Gale
Swedish-Australian model Kelly Gale is of Indian-Australian Heritage and is known for walking the runways for Victoria's Secret as well as appearing in the Sports Illustrated and Playboy.  She was the face for Bobbi Brown Cosmetics for their Spring/Summer 2017 collection.
Main Image Photo Credit: Instagram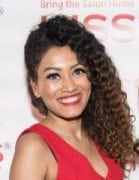 Author
Marriska (@marriska.fernandes) is an entertainment expert who has been creating celebrity, movies and pop culture content for digital outlets for over ten years. From reporting headline-grabbing celebrity news to reviewing movies to interviewing Hollywood and Bollywood's finest actors and industry...