Fashion /
Celeb Style Alert: Karisma Kapoor Channels Classic Audrey Hepburn Vibes In Stunning Dress
Celeb Style Alert: Karisma Kapoor Channels Classic Audrey Hepburn Vibes In Stunning Dress
Fashion Jan 25, 2022
In our latest celeb-style alert, Bollywood 90s icon Karisma Kapoor has been showcasing some next level style that we can't get enough of. Her latest stylish turn give us major Audrey Hepburn vibes. Check it out!
Last December, Karisma Kapoor inaugurated De Beers Forevermark's exclusive boutique in Bangalore. She wore a gorgeous shimmering off-shoulder black dress from Gauri and Nainika.
She accessorized her look with silver jewelry from the house of De Beers Forevermark.
We are absolutely moving her old Hollywood/Bollywood vibes!
Photo Credit: www.Instagram.com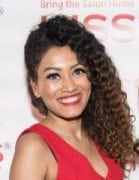 Author
Marriska (@marriska.fernandes) is an entertainment expert who has been creating celebrity, movies and pop culture content for digital outlets for over five years. From reporting headline-grabbing celebrity news to reviewing movies to interviewing Hollywood and Bollywood's finest actors and industr...