Fashion /
Celeb Style Alert: Kiara Advani And Her Purple Reign
Celeb Style Alert: Kiara Advani And Her Purple Reign
Fashion Mar 04, 2022
We love watching our fave stars show off their style senses. Kiara Advani caught our eye in this fabulous purple suit. We bow to her and her purple reign!
Kiara Advani elevated her fashion game for a recent event. She wore a solid purple blazer with puffed up shoulders from T Skaff.
She wore a matching trousers and a sharp pair of purple Christian Louboutin stiletto pumps.
We love the cut and the colour of this entire look. Her reign is secure.
Main Image Photo Credit: www.instagram.com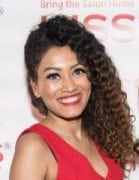 Author
Marriska (@marriska.fernandes) is an entertainment expert who has been creating celebrity, movies and pop culture content for digital outlets for over five years. From reporting headline-grabbing celebrity news to reviewing movies to interviewing Hollywood and Bollywood's finest actors and industr...