Hair Trend: Beach Boho Waves
Fashion Mar 04, 2015

From Runways To Red Carpets, Wind-Tousled Locks Are A Fave
Free-spirited bohemian looks are the next hair trend to dominate the style industry — on runways or red carpets. Loose locks of waves were spotted on the spring 2015 runways, including Marchesa, Chloé and Valentino. Effortless waves were also seen at the India Beach Fashion Week this year.
Recently, Priyanka Chopra rocked sexy, wild waves at the Grammys pre-awards party. Comedy darling Mindy Kaling also sported a tousled mane at the Vanity Fair Oscar party this year but Bolly babes have been rocking the look for ages.
Check out our girl Bip in the movie Raaz 3
You don't have to wait for summer or a red carpet showdown to rock a free-style mane. Here's how you can get down and dirty waves. There are different kinds of boho waves. You can go for '70s effortless locks, which have a bit of volume at the crown and then a messy flow down through the tips. I like soft, carefree beach waves that create a natural goddess look, celebrating the sun, sand and sea.

Step 1: Shampoo & Condition
Start by washing your hair with a nourishing shampoo, like the new Lush Seanik Shampoo Bars. This seaweed shampoo bar softens locks and adds extra shine via softening Irish moss seaweed, giving a shiny volume to flat hair. L'Oréal Paris OleoTherapy Oil Infused Conditioner restores the silkiness in your hair and leaves no greasy residue behind. Then, spray Kevin Murphy's UN.Tangled leave-in conditioner onto wet hair and comb through to detangle.

Step 2: Prep
Next, part your hair into sections. I suggest dabbing your hair with Bumble & Bumble Hairdresser's Invisible Oil. By adding a bit of this oil to damp hair before heat-styling, you not only protect your hair but also make sure your locks are shiny and smooth. Make sure your hair is neatly pinned into sections.

Step 3: Style It
Now it's time to get dirty. Take each section and apply a dollop of Moroccanoil Hydrating Styling Cream, which ensures that hair is touchably soft. The lightweight formula is the reason this is my go-to brand for frizzy and unmanageable hair. This cream will provide a medium hold and humidity resistance. Next, use a curling iron to curl each section of your hair — but just for a few seconds, or else you'll end up with too-defined curls instead of loose waves.

Step 4: Flaunt It
Once you've curled all the sections, run your hands into your hair and detangle. Scrunch it up. Messy, effortless waves are what you're aiming for. And after a good hour or two, you'll look like you just got out of bed but with a sultry twist. You can finish your look by spraying Moroccanoil Glimmer Shine, giving a gorgeous gloss to your waves. And finally, spray L'Oréal Professionel Crepage De Chignon, a mineral powder spray for a wild mane effect. Voilà! You look effortlessly chic and runway-ready!

Bipasha Photo: memsaab.com
Model Shots: fashiongonerogue.com, santabanta.com
Product images courtesy of online retailers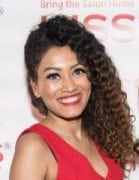 Author
Marriska (@marriska.fernandes) is an entertainment expert who has been creating celebrity, movies and pop culture content for digital outlets for over ten years. From reporting headline-grabbing celebrity news to reviewing movies to interviewing Hollywood and Bollywood's finest actors and industry...