Fashion Hot List: Holi White-Out
Fashion Mar 02, 2015

Holi Fashion Essentials
With Holi around the corner, I've rounded up a few fashion must-haves to get you ready for the festival of colour celebrations. To help you put together a white-out look that's playful enough to entice colourful splashes, here are my go-to style essentials for the auspicious day.

Kurtis
Traditionally, kurtis are often chosen as the outfit for Holi. Varun Bahl's Ivory Tunic is a comfortable option for those who want to go traditional this Holi.
$173 CDN

Jeans
Don't pair your kurtis and tops with withered old jeans. If you're looking to go casual for comfort, try these skinny Yoga Jeans which are known to be both stylish and comfortable because you know you've got to look cute in the act.
$120 CDN
Dress
If you're looking for more of a feminine statement then dress up for the event in this girly Aritzia's Wilfred Hymne Dress which gathers at the waist to create a soft yet relaxed silhouette.
$145 CDN
Jumper
Club Monaco's ultra-chic Sadie Jumper hangs comfortably on your waist leaving you to be active all day while looking stylish.
$279 CDN
Skirt Style
For those who prefer to wear skirts, you do have a ton of options. Zara's White Denim Dungarees skirt is sporty and chic. The playful piece will not only absorb colour on this festive day, it'll do it all while maintaining your super fun, stylish look.
$79.90 CDN
Shirt Dress
Another fave of mine is the Rashmi Varma Hira Khadi Shirt Dress. It's long enough to get you dripping with colour from head-to-toe in a chic manner
Prices available upon request.

Scarf
You can always pair your outfit with a light coloured scarf. The Bay's Lord & Taylor Animal Stripe Scarf is a light leopard print piece that will match perfectly with any white ensemble you opt for.
$38 CDN
Headpiece
Of course, a headband is a must to keep your hair tied up and in place. Free People's Myna Headband is from an exclusive FP One Collection made with love from India. The boho-printed fabric will surely remind you of the motherland.
$22.53 CDN
All images courtesy of online retailers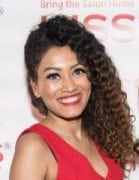 Author
Marriska (@marriska.fernandes) is an entertainment expert who has been creating celebrity, movies and pop culture content for digital outlets for over ten years. From reporting headline-grabbing celebrity news to reviewing movies to interviewing Hollywood and Bollywood's finest actors and industry...