Get the Date Night Look
Fashion Jan 28, 2015

Sizzle Up The Night With These Must-Have Statement Pieces
With Valentine's Day around the corner, of course fashion is on every girl's mind. But can we fight the cold front while pulling off an irresistible look? I've rounded up a few options that will keep you looking date night–ready. Pair these fashions with bold red lips, smoky eyes and tousled locks and you're ready to knock him off his feet!

With Love, Sultry & Chic
Choose a dress that exposes your best features. If you've got the curves, flaunt them. This Satin & Lace Bebe dress features a gorgeous satin sweetheart bustier with a floral lace skirt. It accentuates your curves, creating a chic and sultry look.
$149 CDN
Skyscraper Heels
I firmly believe that shoes can make or break an outfit. The heels should complete your look, but make sure you're comfortable walking in them. Since the weather isn't your best friend right now, opt for a cute pair of booties that will still create a knockout look. Aldo's Disantis booties are my go-to this month!
$100 CDN
Bundle Up
Ted Baker's Laureol flared skirt coat, flirty and floral, is a perfect evening coat to keep you warm yet classy and sophisticated.
$745 CDN
Clutch It
Amp up your game with a too-hot-to-handle clutch that will carry all your essential beauty items on your night out. This Guess stone-embellished minaudiere adds just the right amount of sparkle to spice up your look.
$98 CDN
Wrap Me Up
Scarves are one of my favourite trends during winter and a great way to jazz up any outfit. For this occasion, go for a silk scarf like this black and golden jungle scarf by Rajesh Pratap Singh for Shingora.
$273 US
Sizzle
A piece of jewelry adds that extra pizazz to make sure he only has eyes for you. Jenny Bird's Kundali King Serpent Bracelet adds a touch of chic glam.
$85 US
Scent of Love
Dab on an irresistible scent — not too strong. You don't want to make him gag. One of my favourites is L'Occitaine's Arlésienne Eau De Toilette. It has an irresistible scent that lingers wherever you go. The floral extracts are what make this scent a must-have!
$48 CDN
Statement Necklace
A light semi-rigid necklace is always a good option. Avoid too much sparkle or an extravagant piece, as you don't want to create a distraction. Your look can be smoky and sultry with a few statement pieces — like White House | Black Market's silvertone short tennis necklace.
$65 CDN
Dazzle Him
An ethnic-inspired piece adds a cultural touch to your modern look. Magnolia's stud earrings, styled with emerald and marcasite, will surely remind you of home.
All images courtesy of online retailers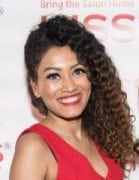 Author
Marriska (@marriska.fernandes) is an entertainment expert who has been creating celebrity, movies and pop culture content for digital outlets for over ten years. From reporting headline-grabbing celebrity news to reviewing movies to interviewing Hollywood and Bollywood's finest actors and industry...