Fashion /
L' Dezen Jewellery: A Celebrity Favourite
L' Dezen Jewellery: A Celebrity Favourite
Fashion Feb 17, 2015
L' Dezen Jewellery Is The Epitome Of Style And Elegance
In the world of exquisite luxury, Payal Shah's L' Dezen is a name to reckon with.
Her one-of-a-kind statement pieces are a celeb favourite worn by stars like Carrie Underwood, Sophia Vergara and Lady Gaga. Her brand offers diamond jewelry with rose cuts and sliced diamonds engraved in a palette of 18K gold colours.
Payal's background in architectural interior design has seeped into her jewelry designs — namely, in the spectacular geometric patterns. "With strong architectural backgrounds, I believe my jewelry designs are with strong geometric presence and graphical potential," says the Jewelry Net Asia Young Leader of the Year 2012 award winner.

Payal specializes in statement pieces — especially earrings and rings. Her high-end clientele adores her blend of classic designs with a touch of modern concepts. She specializes in trendy and tasteful schemes available in black rhodium and white, rose and yellow gold. L' Dezen has four exquisite collections: Fierce, Puri Di Cuore, Venom Chadonne and Violetta.

The Fierce Collection is the most elaborate collection, creating animal-print patterns from rose cuts and sliced diamonds with contrasting colours. Animal prints are revived in statement earrings and bracelets.
The Venom Chadonne Collection represents the bold modern woman. Each piece has a coloured stone or black diamond centrepiece, and the design is elaborated around these large stones. The technique creates a sublime, three-dimensional aura that is just hard to miss.
The Puri Di Cuore Collection is inspired by one of Payal's favourite architects, Ludwig Mies van der Rohe. It's a contemporary style with a modern twist — a style that could represent modern times just as classical and gothic architecture did for their own eras. Each piece is cut with extreme clarity and simplicity, making the diamond setting and artisanship a priority.

The Violetta Collection exudes the utmost sophistication with a feminine touch. The flowers, butterflies and paisley patterns are rich and vibrant. They're available in rose, yellow and white gold or even mixes of gold.

Payal prefers to create one-of-a-kind pieces for each of her clients based on their personalities. Her jewelry looks good on celebs both on and off the red carpet. She likes the personal touch, so you won't find a lot of online retail.
Carrie Underwood sports L' Dezen earrings at the 2014 American Country Countdown Awards
Sophia Vergara wears L' Dezen Venom Chadonne diamond earrings at
Bravo's Watch What Happens Live
show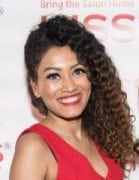 Author
Marriska (@marriska.fernandes) is an entertainment expert who has been creating celebrity, movies and pop culture content for digital outlets for over ten years. From reporting headline-grabbing celebrity news to reviewing movies to interviewing Hollywood and Bollywood's finest actors and industry...