Get The Ultimate Ski Style This Winter.
Whether you're headed to Aspen or simply a ski lover who loves to get your kicks where ever and whenever you can, putting together the perfect après-ski look is never easy. I've rounded up a few suggestions that will not only keep you warm but also score you some points in the fashion world. These runway-inspired pieces will keep you toasty while looking stylish.
Curve crazy
You can't go wrong with a turtleneck. It's the go-to choice if you need to keep warm without looking like you're a bundled-up snowman. H&M's Polo-Neck Jumper is figure-hugging, making sure you're flaunting your curves in all the right places, snow bunny style.
Leather Love
Zara's Faux Leather Leggings With Seam at the Knee are the perfect blend of comfort and style. What better to pair this with than an oversized jumper or polo turtleneck?
Parka play
Just because it's winter, doesn't mean you dial it down. Amp up your wardrobe with a dash of colour — like a wine-coloured piece. Marsala is, after all, the Pantone Color of 2015. The BIANCA NYGARD Plus Size Zurich Faux Fur Trim Coat is an option you should consider if you want to hit winter in ultimate style.
Style-savvy booties
Some of the most comfortable and affordable snow boots that will keep you warm and looking hip are HI-Tec's Lexington 200s. For ladies who don't stop their active lifestyle no matter how cold it is, the Lexington offers serious warmth and support. The sock liner delivers superior cushioning and has anti-odour and anti-microbial properties. Why wouldn't you want to stock up on these?
Bundle up
It's always fun to accessorize with scarves. If you feel your outfit is crying for more, simply throw on a crochet scarf, like this Dynamite's Crochet Eternity Scarf, and you'll be ski chic.
Hats off
Even if you're not skiing on the Alps, you can still have fun with beanies and faux fur. I say "go all out!" Don't let rain or snow get in the way of your fashion statement. The Ted Baker Faux Fur Hat from ASOS is anything but ordinary, plus point is this headpiece will amp up your entire ensemble.
Toasty fingers
Your look wouldn't be complete without a stylish pair of gloves. Target's Limited Edition Leather Gloves with Knit Sleeve will make sure you're nice and toasty with just the right amount of chic.
Featured Image: b2bimg
All other images courtesy of the retailers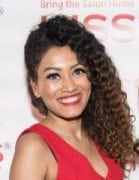 Author
Marriska (@marriska.fernandes) is an entertainment expert who has been creating celebrity, movies and pop culture content for digital outlets for over ten years. From reporting headline-grabbing celebrity news to reviewing movies to interviewing Hollywood and Bollywood's finest actors and industry...