Office Holiday Party Look
Fashion Dec 03, 2014

Get the Ultimate Office Holiday Party Look
'Tis the season for holiday parties – the ones you look forward to and the ones you dread. The annual office holiday party can be fun and memorable, but the most important thing is to dress up with three elements in mind: fun, fashionable and festive while keeping it formal, of course.
I've put together a few pieces that I feel will help you ladies pull off that look with confidence.
Wow Factor
Depending on how fancy your holiday party is, you can go all out with a knock-out piece like the H&M Bandeau Jumpsuit which hugs the figure in all the right places.
You can pair this piece with a blazer and a bold choker and you're all set to make an entrance.
$49.95 cdn
Simple and Stunning
If you're more curvy and want the classic LBD which still makes a statement, a Rachel Sin dress is a good choice.
The brand made a stylish statement with this black zipper dress the moment I saw it on the runway this year.
$335 cdn
Shockingly Casual
If you want to tone it down for a low-key office party, you can go with the classic staple – the blazer.
You can also make it fun by choosing a colourful piece like the Forever 21 Textured Open Front Blazer.
It's lightweight and surely makes you look good and feel confident without killing your bank balance.
$29.90 cdn
Change it up
You can style the blazer with a pair of comfortable, yet statement-making pants.
In my opinion, Canadian brand Yoga Jeans blends style and comfort with every pair of their jeans, a great fit for that low-key office party.
This navy pair is my go-to choice.
$128 dcn
Sky High heels
It's the shoes that make or break an outfit.
You can never go wrong with a good 4-inch pair of booties.
Nine West keeps the perfect height of heels in store and this Julieanne animal printed bootie is screaming for a festive holiday party.
$200 cdn
Statement Accessory
When it comes to jewellery, you could either go all out with a chunky chain or keep it simple with a classic pair of studs.
My choice would be the elegant Swarovski Blow Denim Blue Pierced Earrings.
You'll definitely have people coveting this gem.
$75 cdn
Clutch It
Every lady needs her delicate lil' clutch to stash away her must-haves.
H&M's gold metal clutch bag can be perfectly paired with any dress or business casual.
The key is to carry it out in style, ladies.
$29.95 cdn

All images courtesy of the online retailers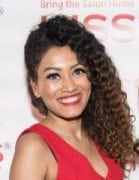 Author
Marriska (@marriska.fernandes) is an entertainment expert who has been creating celebrity, movies and pop culture content for digital outlets for over ten years. From reporting headline-grabbing celebrity news to reviewing movies to interviewing Hollywood and Bollywood's finest actors and industry...