Actress Deena Aziz Takes On 10 Roles In 'The Aeneid'
Culture & Lifestyle Mar 12, 2014

Deena Aziz who is known for her roles in The Moth Diaries and Being Human, is currently starring in the play, The Aeneid at Theatre La Chapelle.
Aziz, known for her role in the NBC feature The Jensen Project, Mary Harron's The Moth Diaries and the Syfy series Being Human, has worked internationally in both film and theatre. Currently starring in the play: the Aeneid, (which runs from March 6 – March 15) I sat down with the actress to discuss her new project where she portrays a handful of roles alongside puppets.
When asked about her role written by Quebec playwright Olivier Kemeid, Aziz states its a "contemporary adaptation of the Virgil classic, set in a modern, war-torn context and palpably rich in current political and social overtones. Largely inspired by the experiences of the playwright's own family and their immigration to Canada, the play tells the epic story of Aeneas, who is forced to leave his home to find a new land for his family and people. As the one woman in a cast of three actor-puppeteers, I take on most of the female characters … many of whom figure as the women in Aeneas' adventures."

The AENEID/ .bp.blogspot.
I asked her what this experience was like to play many characters and she quite excitedly replied: "The story is peopled by about 22 characters – 10 of which are my responsibility. It's a challenge, creating characters that are distinct without resorting to caricature … especially when you're flipping from one character to the next, often in consecutive scenes. But you don't often get the chance to stretch in so many different directions in the same show, so it's a welcome challenge."

Deena Aziz working with puppets/montrealgazette.com/
When asked about working with puppets Aziz replied, "… definitely different. There's an extra level to consider, and the trick is to discover the 'translation'. The way that I might express or embody an emotion isn't necessarily how a puppet will do it; they have a different range and vocabulary of expressiveness. So I have to figure out how each one might show anger, or fear, or love, etc."
Make sure you experience the dynamic show before it ends.
Playing at Theatre La Chapelle, 3700 rue St. Dominique
Last day March 15th
Tickets: $29 reg, $25 students
For more info call: 514 843-7738 or purchase online: La Chapelle box office

Source & Featured Image: Media Relations For Standing Ovations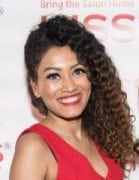 Author
Marriska (@marriska.fernandes) is an entertainment expert who has been creating celebrity, movies and pop culture content for digital outlets for over ten years. From reporting headline-grabbing celebrity news to reviewing movies to interviewing Hollywood and Bollywood's finest actors and industry...