Interview With Entrepreneur Sara Koonar
Culture & Lifestyle Mar 03, 2014

When the recession hit and most fresh grads were struggling to find a job, Sara Koonar chose to create one for herself.
She founded Adorned, an online magazine featuring all things fashion and beauty and co-founded TopModel.com, a community for fashion and model enthusiasts alike. With a passion for style, beauty and journalism, the young entrepreneur is happily living her dream now as the Editor-in-Chief of 29Secrets.com. With Italian-Indian background this beauty with brains dishes on her success story.
Marriska Fernandes: Tell us about your South Asian background.
Sara Koonar: My father is from Punjab, India. My Indian grandparents used to babysit me all the time; so much of my childhood was heavily influenced by their traditions. Every lunch we would have daal and parathas (still a guilty pleasure of mine).
My grandmother had a great sense of style and would bring me back beautiful Indian suits from her yearly trips back home to the village. She would style my hair in a long braid (which I was never allowed to cut). I am so thankful for all those experiences. Plus, my Netflix "recently watched" folder is jam packed with Bollywood films.

MF: How and why did you go about creating Adorned Magazine?
SK: When I finished my Journalism diploma in 2009, it was right in the middle of the recession. Jobs were few and far between. I was able to score some freelancing gigs, but I felt like I needed more. I decided to create an online magazine that my journalism classmates and I could contribute to while we searched for our dream jobs.
Surprisingly, this passion project turned into a real success and we started gaining more and more readers. In 2011, I sold Adorned to a media company in the US. It was such a surprise that something that was just a project born out of boredom could become valuable.

Image by Kevin Luc Photography
MF: How did you land your sweet gig at 29Secrets?
SK: I had been a freelance writer for 29Secrets for a few years and when I saw they were looking for an editor I thought, "Why not me?" I went into the interview with the mindset that I am not going to leave until they give me the job.
My publisher always jokes about how, perhaps, over-prepared I was. But, I believe that "luck is what happens when preparation meets opportunity."
MF: What do you love and dislike about being an EIC?
SK: I am a bit of a control freak, so I love being the last stop before anything goes online.
That way I can make sure everything is just right! I work with so many lovely people, it makes my life so easy, so there isn't much to complain about. Having a great team is important.
MF: What advice would you like to give young women who want to follow in your footsteps?
SK: You have to be passionate about what you do. I live and breathe my career. When I wake up until I fall asleep I am always thinking about what I could be doing better.
If you are just out of school, the best way to get into the scene is by doing an internship. I did two – Fashion Television and Glow Magazine. They taught me more than school could ever have.
Plus, the contacts I made got me where I am today. We hired an intern just last month! If you want a promotion, be indispensable. Find a way to make yourself an asset to the company. So, that they can't imagine anyone but you doing the job.
MF: What's your dream job?
SK: I feel like I am living the dream right now. If I could do this forever I would be happy.
Featured Image: Katie Elliot
Other image :Kevin Luc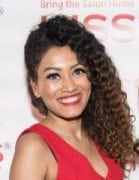 Author
Marriska (@marriska.fernandes) is an entertainment expert who has been creating celebrity, movies and pop culture content for digital outlets for over ten years. From reporting headline-grabbing celebrity news to reviewing movies to interviewing Hollywood and Bollywood's finest actors and industry...