Make Your Brunch Brilliant With This French Buckwheat Crepes & Dosas Recipe!
Culture & Lifestyle Sep 22, 2023
Foodie expert Priya Lakshminarayan from Orlando Florida with a regular foodie column sharing her incredible array of recipes. With summer coming to an end, it's the perfect time to switch over to some warm easy comfort meals. And this Buckwheat Crepes with a Desi Twist is something to behold! Check out the full recipe right here!
Priya Lakshminarayan is the creator of 
Cookilicious
 where she shares globally inspired-vegetarian and vegan recipes. She enjoys creating easy recipes from scratch using fresh ingredients. She is also a published cookbook author. Her book titled – The Essential Vegan Indian Cookbook is available for purchase at 
Amazon
. She won the Best Recipe Blogger Award in 2019 at South Florida Blogger Awards. Her recipes have been published in many magazines and online portals. She grew up in Bombay and now she lives with her husband and their four-legged boy Joey in Orlando, Florida.
Ingredients: 
1 cup buckwheat groats
1 teaspoon amchur powder optional
1 teaspoon cumin seeds
3 green chillies
1 inch ginger
salt
2.5 cups water
¼ cup chopped cilantro
Vegan ghee for cooking
Instructions: 
1. Rinse the buckwheat groats under running water.
2. Then soak them in water for 30 minutes. Soaking them helps break down the phytic acid content, making them more digestible and their minerals more bioavailable. It will make the grinding process easy. You can also soak it overnight.
3. Drain and transfer to a blender.
4. Add green chillies, and ginger. Grind it to a smooth batter by adding one cup of water.
Transfer to a bowl.
5. Add finely chopped cilantro, cumin seeds, amchur powder, and salt. Mix.
6. Adjust the batter consistency by adding 1.5 cups water. It should be a thin-flowing batter. French Buckwheat crepes batter is ready.
7. Heat a tawa on medium heat and pour a ladle full of batter from a height. Pour the batter in such a way that it forms a thin round crepe. Drizzle ghee and cook for a couple of minutes on medium flame.
8. When holes begin to form on the Kuttu Dosa, then carefully flip and cook the other side similarly.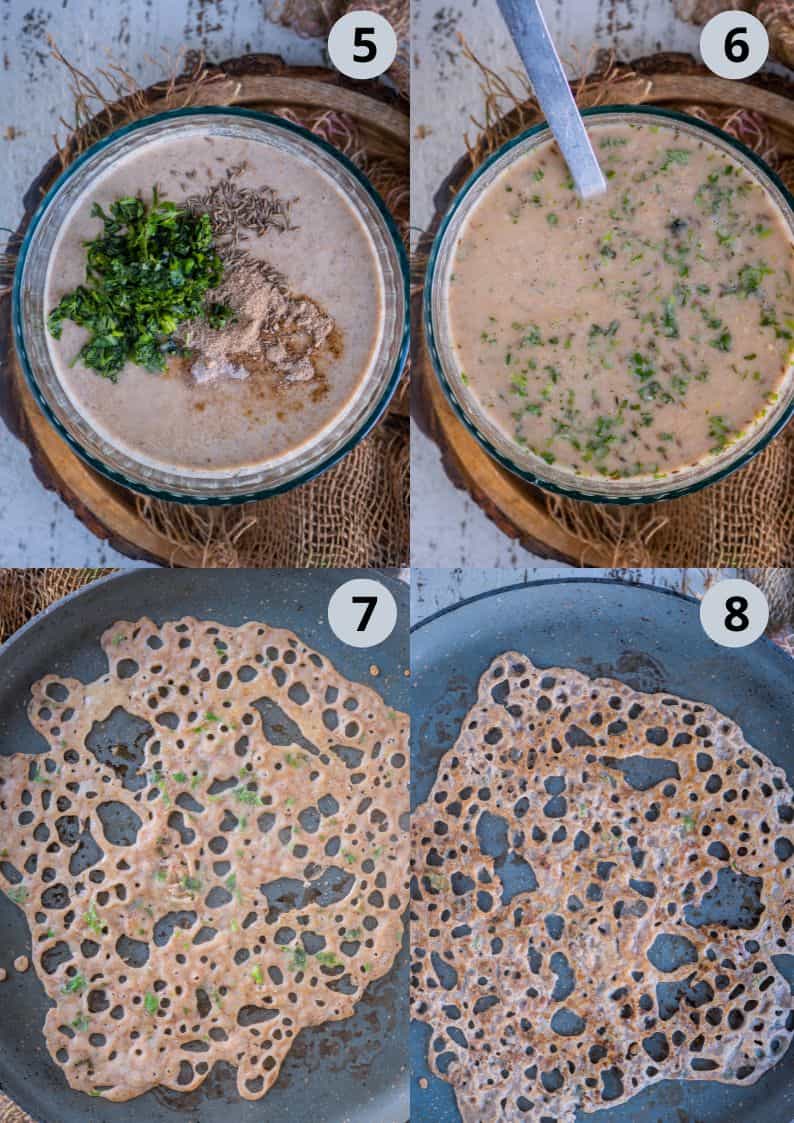 Chef's Tip: Every time before pouring the batter, give it a stir because the flour tends to settle at the bottom of the bowl. Prepare as many as you need and store the remaining batter.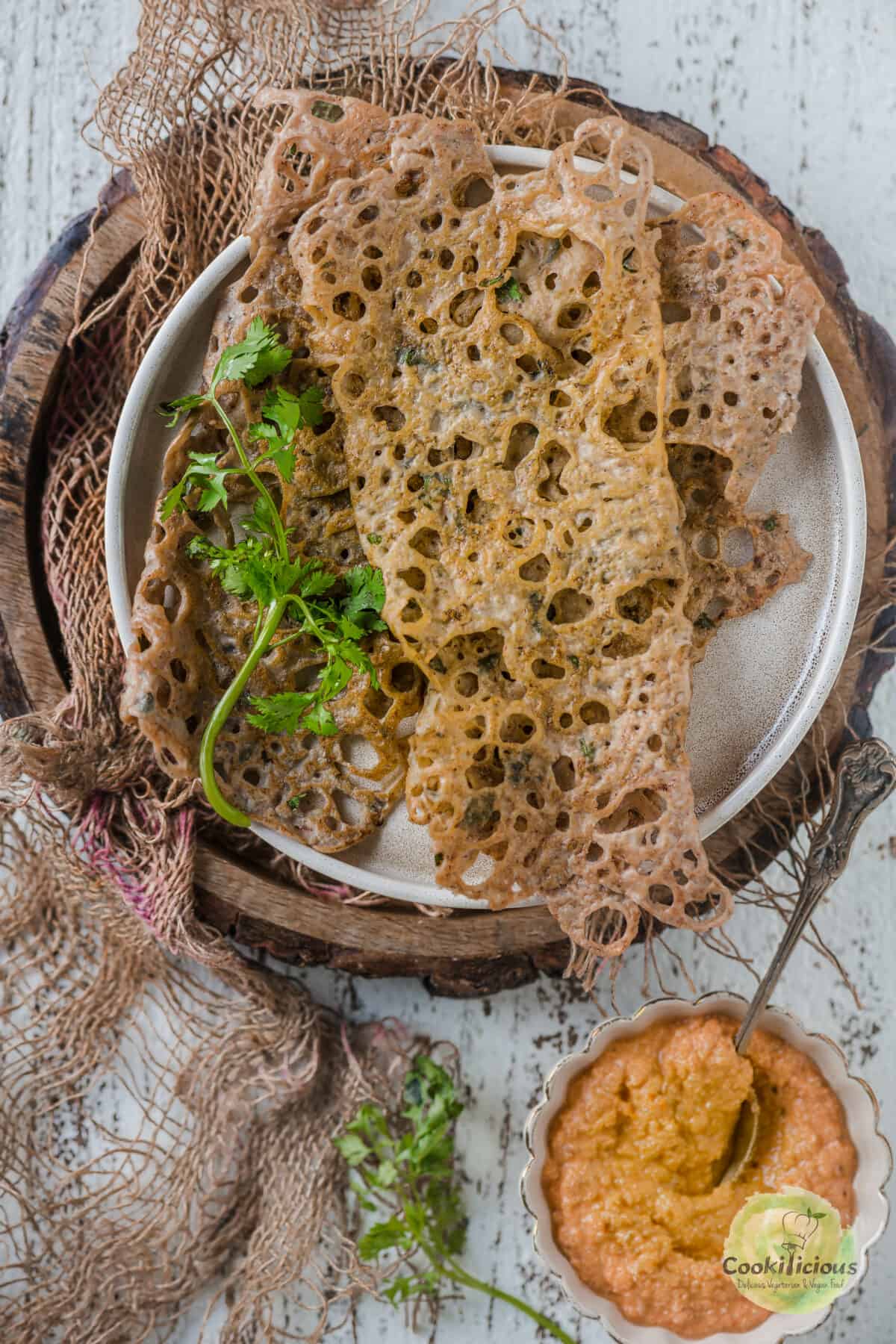 Serving Suggestions: 
You can watch this gluten-free French Buckwheat Crepes recipe video on my Instagram reels. Serve these Dosa or crepes immediately when they are still crisp. Serve them for breakfast or as an evening after-school snack. They can also be served for lunch or dinner. Gluten-free Buckwheat Dosa can also be served for Vrat or Upwaas, especially during Navratri. If you are looking for a different breakfast or snack recipe, then give this healthy Dosa recipe a try.
What To Serve With Crepes: 
Enjoy your delicious and nutritious buckwheat crepes for breakfast and serve it with tea/coffee or a smoothie. If serving as a meal, some fillings for crepes are crumbled paneer or tofu, stir-fried veggies, sauteed mushrooms, avocado, or greens and/or sour cream. Serve these gluten-free savory crepes along with a bowl of soup or salad. You can also stuff it with cherry tomatoes, pesto, tahini, cheese, dijon mustard, or cream cheese.
If serving it as Buckwheat Dosa then serve it with a side of chutney like coconut chutney, coriander mint chutney, tomato peanuts chutney, almond tomato chutney, Bombay chutney, or lettuce chutney. You can also serve these gluten-free and vegan crepes with sambhar, rasam, and/or molagapdi. You can also prepare a stuffing with spiced potatoes or sweet potatoes and use that as a stuffing, similar to masala dosa.
Bonus Tips:
The consistency of the batter should be very thin similar to Rava Dosa. If you want, let the crepe batter rest for at least 1 hour to hydrate the flour. When making the crepes, ensure the skillet is not very hot. If you sprinkle water on the tawa, they should form droplets. Use a ¼ or ½ cup measurement to pour the batter on the tawa. Reduce the flame to medium and then pour the batter from a height (5-6 inches). It will begin to form a lacy pattern.
When the crepes are still hot, sprinkle some dairy-free cheese on top for that extra flavor. Making these nutty breakfast crepes require a little bit of practice but don't lose hope. The first few are test ones. If you want, you can also temper the batter like we do when making Onion Rava Dosa. If you make a thick batter using these ingredients, then you can make buckwheat pancakes.
Main Image Photo Credit: https://cookilicious.com