Showbiz /
The Spice Girls 'Wannabe' Video Gets Rebooted With Next-Level Empowerment Message
The Spice Girls 'Wannabe' Video Gets Rebooted With Next-Level Empowerment Message
Showbiz Jul 06, 2016
The Global Goals' remake of The Spice Girls' iconic "Wannabe" video champions female empowerment in the best possible way for the new generation.
The famous 1996 Spice Girls' "Wannabe" video just got a major makeover, thanks to Project Everyone by The Global Goals. The fun music video features global stars, including Bollywood actress Jacqueline Fernandes, Canadian Taylor Hatala, British hip hop group M.O. and other artists who tell world leaders what they really, really want.
The campaign's new initiative, #WhatIReallyReallyWant, got a shout-out from Victoria Beckham on Tuesday when she shared the video on her Facebook page. She wrote, "20 years on — Girl Power being used to empower a new generation."
The video champions "Girl Power" by telling UN leaders what goals it needs to address first. Supporting girls and women, issues like quality education, ending violence and child marriage, and ensuring pay for equal work need to be at the top of every government's agenda.
M.J. Delaney of Moxie Pictures sat in the director's chair, leading the remake of the video. It also features Gigi Lamayne and Moneoa from South Africa, Seyi Shay from Nigeria and Larsen Thompson from the United States.
The video on Beckham's page got more than 9 million views in the first seven hours after she posted it.
A message on the YouTube video says, "2016 is our chance to use our collective power and tell world leaders what we really really want for girls and women. If you make the noise, we'll get your message to world leaders at the UN in September."
Video by The Global Goals
Photo Credit: www.YouTube.com
Since the video hit the Net, several celebs have been campaigning for Girl Power using the hashtag "#WhatIReallyReallyWant. Even renowned feminist Emma Watson joined along to ask for gender quality. She shared on Twitter, "#WhatIReallyReallyWant is to see Goal 5 —Gender Equality achieved @theGlobalGoals."
What better way to celebrate female equality and one of the best classic pop songs of all time?
Main Image Photo Credit: Global Goals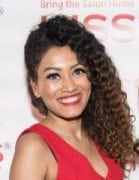 Author
Marriska (@marriska.fernandes) is an entertainment expert who has been creating celebrity, movies and pop culture content for digital outlets for over ten years. From reporting headline-grabbing celebrity news to reviewing movies to interviewing Hollywood and Bollywood's finest actors and industry...