Spring 2015 Jewelry Trends
Fashion Apr 20, 2015

Spring Bling
Spring is in full swing, and hot jewelry is at the forefront of the fashion arena. From major boho-inspired trends like tassels and feathers to statement-making chokers, trends are hot and heavy this season.

Tassels
Boho trends are sweeping spring headlines. Tassel necklaces are everywhere — from runways to red carpets. This Pearl Crystal Fireball Tassel Necklace from White House Black Market brings a touch of '70s Hollywood glam with its fine artisanship.
$60 CDN

Hippie Feather Finds
With hippie pieces, feather finds are an absolute must-have. Add a pop of colour with this Najlah Silk and Feather beaded necklace.
$604 CDN

Chokers
Chokers have been all the rage these past seasons, and rightfully so. From Ralph Lauren to Chanel and Christian Dior, chokers have been sneaking up on the runways every season. Atelier Swarovski's Velvet Rock Chandelier Choker by Viktor&Rolf takes style to the next level with a stunning red carpet–inspired piece. The gold plating infused with red tones is a perfect portrait of exquisite taste.
$1,900 CDN
Statement Earrings
Bjørg's statement ear cuff is one trending accessory piece. Oversized earrings are making a statement on the runways and red carpets. This Grey Knight bronze-based ear piece is an adjustable, hand-coloured grey horsehair ear-cuff with an 8K gold plate. If this doesn't make heads turn, I'm not sure what will.
$210 CDN

Cuffs and Metallics
Cuffs and all things metallic are being planted on every woman this spring. Heavy black and gold ensembles like this GUESS Black and Gold Metal Plate Cuff echo the chic street style footsteps you'll want to follow.
$30 CDN
Chunky Chains
Chunky chains have never seemed to escape the fashion industry. They're nearly always spotted on runways and during awards season. Maybe this season, swap delicate pieces for scream-out-loud numbers. The Hermes Chaîne d'Ancre is an attention-grabbing piece that you might want to check out.
$2,420 CDN
Buzz for Beads
Bejewelled pieces have always secured a place in many women's closets. This Deepa & Rohita Turquoise Stone Necklace with Golden Floral Charms is exquisite and creates an elegant and sophisticated look.
$225 CDN
Delicate Studs
Precious stud earrings handed down from generations are still a hot number when it comes to jewelry trends. As a chic alternative, you can layer these Round Gem Drop Earrings from the LOFT collection with any evening gown.
$31.38 CDN
All images courtesy of online retailers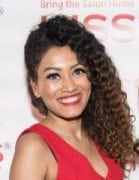 Author
Marriska (@marriska.fernandes) is an entertainment expert who has been creating celebrity, movies and pop culture content for digital outlets for over ten years. From reporting headline-grabbing celebrity news to reviewing movies to interviewing Hollywood and Bollywood's finest actors and industry...