Chic Summer Office Looks
Fashion May 26, 2015
Light fabrics, warm colours and bold accessories are key this summer.
Summer is right around the corner, officially anyways, and it's time to replace your office wear with more chic, comfortable and lighter options. Think cropped blazers and lightly lined tops paired with shorts and skirts. Here are a few options for a stylish, summer office wardrobe.
Summer Fling
Light summer dresses in soft colours like light blue or beige are the go-to option for many women. You can amp it up a notch when you have a meeting scheduled by pairing the summer dress with a blazer. The Kasia Reversible Hourglass-Seemed Dress ($165 CDN) is a chic monochrome piece that can be transformed from night to day.
Suit Up
Shorts are a chic way of beating the heat and you can look completely professional if you choose the right pieces. Pair a professional pair of shorts with a sharp-cut blazer and you're good to go. This pair of
Forever 21 Abstract-Embroidered Glitter Shorts
($23.90 CDN) is chic and adds a bit of sparkle to your life and to your waist. Pair these high-waisted shorts with a chiffon top and you're all set to face the sunshine.
Be Calm and Cotton On

Blaz-er-ing Heat
A cropped blazer completes any look and takes it from casual to professional instantly. This
Bebe Emily Jacket
($149 CDN) is a bold, cropped jacket with a peplum detail that gives a stunning silhouette.
One-piece Charm
You can't go wrong with a jumpsuit or a romper. It is one of the most trending pieces this summer and it always makes you look like a pro. This effortlessly sophisticated BCBG Danae Plunge-Neck Romper ($248 CDN) will give you such a boost of confidence you'll feel like the boss.
Shoe Me the Love
An envious pair of stilettos will add glamour to any look and will take you from desk to dinner. The Teatime Nine West Sandals ($160 CDN) is just what the diva ordered.
Sparkles, Please

A pop of colour is always welcome and summer simply calls for it. This
Swarovski Cardinal Necklace
($229 CDN) embraces the elements of vintage and modern ethos.
All images courtesy of online retailers.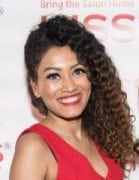 Author
Marriska (@marriska.fernandes) is an entertainment expert who has been creating celebrity, movies and pop culture content for digital outlets for over five years. From reporting headline-grabbing celebrity news to reviewing movies to interviewing Hollywood and Bollywood's finest actors and industr...