Iftar Beauty Tips: How To Keep That Glow During Ramadan
Ramadan began on June 18 and, during this Holy Month, many South Asian Muslims break the fast at sundown during Iftar. After working all day and fasting it's hard to find the energy to get dressed up for Iftar but given our festive South Asian culture and Ramadan's religious nature, it's the perfect time for some subtle glamour. To achieve this quickly and with little effort, focus on an easy base and then add colour to the eyes or lips.
The Base
Your skin should look even and fresh. A light foundation that makes you glow, like Diorskin Airflash Spray Foundation ($62.00 CDN), is ideal. Airflash deposits a trace of product on your face for a photo-finish look. Hold the can about 20 centimeters away from your face and spray in an S shape. Then use a foundation brush to spread the product and dab an extra bit on darker areas.
An eyeshadow base is essential for minimizing dark lids. I prefer a creamy base that dries to powder finish such as Laura Mercier Eye Basics ($31 CDN) as it is easy to blend and doesn't settle into fine lines.
Set your eyebrows with Benefit Gimme Brow ($30 CDN) for definition. Its small brush head permits a controlled application and the medium/deep colour matches dark eyebrows. Don't forget to curl your eyelashes because it opens up your eyes and will make you look more awake. Curl your lashes before applying eyeliner to avoid smudging the liner.
Dab on some concealer, like Nars Radiant Creamy Concealer ($35 CDN) which adds some glow but contains enough orange to counteract any blueness under your eyes. The sponge tip deposits the perfect amount of product and the concealer is creamy, blendable and sets within five seconds.
Add a hint of colour on your cheeks for brightness. A universally flattering shade is Dior Rosy Glow Healthy Glow Awakening Blush ($46 CDN) in Petal. Just one swipe per cheek brightens the face.
The Eyes
Define your eyes with jewel tones such as Benefit They're Real! Push-up Liner ($31 CDN) in Beyond Blue, a deep sapphire, that stays put and enhances dark peepers. Follow with the matching They're Real! Mascara ($31 CDN).
Complete the look with soft neutral lips using a lip balm such as Dior Addict Lip Glow ($37 CDN) which reacts with your lips to create a unique colour.

Et voila! Easy base and strong eyes.

The Lips
Start by scrubbing your lips with a soft baby toothbrush because a day without water leaves them flaky. Choose a dramatic, festive, long-lasting lipstick and matching pencil to ensure that the colour stays put. A fantastic combo is Nars Velvet Liner ($28.00) in Costa Smeralda and Audacious Lipstick ($37 CDN) in Michiyo. These hot pink shades flatter all South Asian skin tones.
Define your eyes with a thin black liquid liner, such as Écriture de Chanel ($43.00), to finish off your look.
Et voila! Easy base and strong lips.
These steps shouldn't take more than seven minutes, allowing you to add a touch of subtle glamour without draining the little energy you have left after a day of fasting.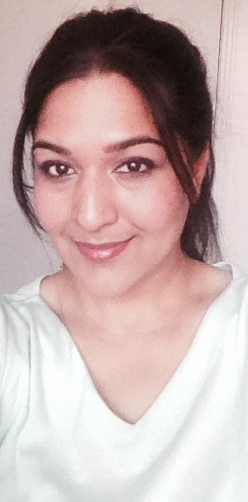 Author
Meena (@meenalaregina) always loved the idea of exploring the non-conventional idea of beauty. Having grown up as a pimply chubby teenager, she wanted to see the change in the world that best reflected your uniqueness as well. Her well-received collection of blogs where she tries on various beauty p...