Beauty /
#ANOKHI20: Here's How You Can Get The Best Beauty Looks From The ANOKHI Emerald Series
#ANOKHI20: Here's How You Can Get The Best Beauty Looks From The ANOKHI Emerald Series
Beauty Jul 10, 2023
As you know, ANOKHI celebrated 20 years of sharing stories and uniting the South Asian community in Toronto. The beauty of the#ANOKHI20 festivities was punctuated by each guest's beauty game because each one understood the assignment: pure bespoke glamour. What made the glamourous looks special, is that they are easy to recreate at home, and allow your anokhi to shine through!
GRAPHIC EYE & THE POWER LIP
ANOKHI Founder & CEO Raj Girn is renowned for her glamour and she excels at the eye game.  The intricacy of her eyeliner looks are simultaneously modern and timeless. Raj always evokes the best of the late sixties and reminds us of the reason why kajol is power tool for South Asian women; it just works perfectly.  To achieve her eye look, rim your eyes with a long-wearing, richly pigmented eyeliner such as Kulfi Nazar No More Underlined Kajal Clean Waterproof Long-Wear Eyeliner and build the upper lashes using a volumizing mascara such as YSL Lash Clash Mascara in black and delicately define the lower lashes using the Clinique Bottom Lash Mascara, whose tapered mini brush head ensures that each lash is defined without heaviness.
ANOKHI's Editor-In-Chief Hina P. Ansari is forever the classic Pondicherry beauty with her trademark red lips that are equal parts sophisticated and friendly. There are two elements required to create Hina's carmine pout, a great semi-matte lipstick and a matching lipliner. To ensure that there is always a stain of colour, even after you hit the chaat table, fill your lips using a red lipliner such as MAC Ruby Woo and then apply a layer of unabashed glamour such as Charlotte Tilbury Red Carpet Red.
.
THE SMOKIN' EYE
Tamanna Roashan's soft smoky look was eye-catching because it evokes the haziness of summer while inserting oomph. The eyes are defined without defined lines and you can transform your simply day look into a va-va-voom one with a few simple steps. Once again, the kajol plays a role, but this time you need a smudgy one paired with a soft mascara. I love to rim my eyes using the Estée Lauder Smoke and Eyeliner Kajal Duo in Dark Chocolate/ Rich Bronze; I line the upper lash line using Dark Chocolate on top and immediately smudge it; and the repeat the same on the lower lash line except that I use bronze. I then curl my lashes and apply two coats of Bobbi Brown Smokey Eye Mascara, that defines and fattens each lash perfectly.
FRESH COMPLEXION
This duo of beauties reminded me of the timeliness of fresh skin that looks smooth and soft and is perfect for any occasion.  This look radiates confidence and natural beauty that transcends time and space. A great summer time foundation that I recommend that you spot apply on uneven areas is Nars Light Reflecting™ Advanced Skin Care Foundation is easy to blend using a brush and it rapidly bonds with the skin, creating a seamless finish. There are 36 shades which means that every South Asian beauty will find a shade.
HELLO HIGHLIGHTS
This glamourina demonstrates that another way to celebrate the complexion is to use a highlighter to attract the light to the face; it is refraction attraction. My favourite highlighter is the Westman Atelier Lit Up Highlight Stick; I adore these sticks  (4 shades available) because they are easy to use. My preferred shade is Nectar (a soft peach) and I like to swipe it directly onto the apples of my cheeks, upper lids and cupid bow and then tap the product using my fingers so that the glow looks like it originates from within the skin. The effect is pure luminosity and that is an intrinsic element of glamour!
VA-VOOM WAVES
Fear Of The Walking Dead actor Karen David's flawless, frizz-free bouncy, face framing waves are #hairgoals for summer.  The beauty of Karen's look is the look perfectly traverses the line between glamorous and fuss-free. The base for such perfect waves is hydrated strands, and I rely on Aveda nutriplenish™ to revive my normal to dry hair.  I start with the vegan and sulfate-free nutriplenish shampoo deep moisture and finish with nutriplenish conditioner deep moisture  (the line also light moisture option).  I like to blow dry my hair using the line's styling treatment foam and then using a curling iron to create the waves.
SHIMMERING CURVES
Natasha Chandel gracefully demonstrates the power of gleamy skin from neck to toes. A gorgeous summer outfit is complemented by glimmery games and arms.  To achieve this look, exfoliate  once or twice a week using a creamy product which has gentle granules such as Clinique Sparkle Skin massage, then I add a few droplets of Live Tinted Hueglow to my body lotion, and then I massage my limbs.
The South Asian beauties featured in this story demonstrate, your anokhi is only a swipe, tap and dusting away.  You need to invest in a few key products, and you are halfway to your pure lit self!
Main Image Photo Credit: Nisarg Media Productions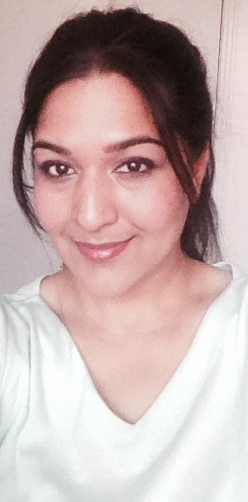 Author
Meena (@meenalaregina) always loved the idea of exploring the non-conventional idea of beauty. Having grown up as a pimply chubby teenager, she wanted to see the change in the world that best reflected your uniqueness as well. Her well-received collection of blogs where she tries on various beauty p...