Beauty /
Here's Why We're In Love With Kay, Katrina Kaif's Latest Vegan Beauty Products
Here's Why We're In Love With Kay, Katrina Kaif's Latest Vegan Beauty Products
Beauty Aug 25, 2023
Bollywood Star Katrina Kaif launched a new range of vegan-coloured matte kajals, micro blading pen and brow products, extending her Kay Beauty By Katrina line. Here are our list of reasons why we are in love with Katrina Kaif's new additions to her hot beauty line! 
According to a press release, the actress said: "Eyes are the window to your soul, so why not dress them up in your own unique way? The new range will empower one to unleash their creativity and achieve a personal signature eye look that is a complete reflection of one's personality, thus defining their own #Eyedentitie. Our products are cruelty-free and vegan, and we are excited to continue to create innovative products that cater to the needs of the modern consumer."
She shared on Instagram: "NEW LAUNCH 🚀Bringing to you #kaybeauty 's game-changing essentials for a glamorous & exotic eye look! 👁️ Our glam game is on point 📍 Created with our newest pro- innovations ✔️~The Colored Matte Kajals, ~Microblading Pen & Brow Tattoo Liner. Now over to you! Define your #Eyedentitie too!"
View this post on Instagram
The colorful matte kajals are formulated with chamomile and ceramides, packed with have skin-soothing and calming properties that reduce inflammation, improve the health of skin, lock in moisture, and prevent dryness and irritation of the eyes.
The micro-blading brow pen contains vitamin E, which protects and restores moisture.
The brow tattoo liner has vitamin B5 which promotes hair and skin health.
With these being her latest addition to her successful beauty line we can't wait to see what else is in store!
Main Image Photo Credit: www.instagram.com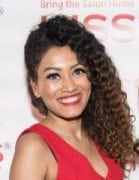 Author
Marriska (@marriska.fernandes) is an entertainment expert who has been creating celebrity, movies and pop culture content for digital outlets for over ten years. From reporting headline-grabbing celebrity news to reviewing movies to interviewing Hollywood and Bollywood's finest actors and industry...