Beauty /
The Hottest Beauty Bridal Trends That Bollywood Wants You To Know About
The Hottest Beauty Bridal Trends That Bollywood Wants You To Know About
Beauty Jul 28, 2023
Alia Bhatt's 2022 wedding was a glamourous affair and her neutral bridal look, a feast of cream and pearl, demonstrated how soft neutrals deliver as much glitz and sizzle as the classic red bridal look. It appears that other talented Bollywood brides such as Kiara Advani, Athiya Shetty and Sonnalli Seygall have followed suit by getting married wearing softer, neutral colours. The trick to achieving the neutral bridal look is to be inspired by kulfi, khir, sandesh, barfi and gulab jamun, all shiny textured with just the right amount of structure. This look is accessible for all skin tones and will always look modern and timeless.
Structure is essential for the neutral bridal look for two reasons: 1. you need to look good on mobile phones, handheld and video cameras, and 2. the softness of the neutral colours will otherwise look like a washed-out mess.
EYES: SOFT OR DEFINED, ALWAYS DIVINE
The eyes are the windows to the soul, so eyebrow pencil, eyeliner and mascara are musts.
The eyebrows establish the baseline structure for the face, and the soft, clean line is always best. Given our dark locks, do not automatically gravitate to the pencil or gel that is the same match, instead choose one that is one to two shades lighter.  Moreover, do not overly define the eyebrows, as this feature will mute the rest of the neutral face. Typically, our natural eyebrows fit our face perfectly and we only need to clean away the strays. Kiara's eyebrow was perfect; they were dark without being overpowering; full; and set in place.
My favourite products for eyebrows are Benefit Precisely, My Brows Pencil, because the fine tip permits you to create single hairs to fill in sparseness; the pencil delivers pigment lightly; it's waterproof; and comes in 12 shades, which means that we have a choice between brown and black shades.
I always set my eyebrows with a clear gel, such as Live Tinted! Huebrow™ Clear Setting Gel, because the brush delivers the gel evenly and sets the eyebrows to a flawless finish.
Eyeliner is a must for a neutral bridal look, as our coffee peepers tend to take centre stage … such is the price of a natural, beautiful feature. Depending on your style, i.e. soft or defined eyeliner, the pencil should deliver rich pigment that stays put during the wedding festivities and not displace the eyeshadow during application.
Let's take a look at the bride who started it all: Alia Bhatt. Her makeup showcased her sparkling eyes to perfection by using a dark brown and metallic pencil. The tops of the eyes were defined with rich brown pencil which was then smudged, and the lower lashes were defined with a golden metallic pencil which was not smudged.
This brown eyeliner flatters the rainbow of South Asian complexions: Live Tinted! Longwearing Pencil Liner in Brown.
For the metallic liner, I like the Make Up For Ever Aqua Resist Smoky Shadow, because the stick always delivers a soft, smoky line that stays put.
If you prefer a sharper, more dramatic line, then follow Athiya Shetty's eyeliner look which was crisp and unforgettable.
The easiest way to achieve such a line is to use a liquid liner pen such as Estee Lauder Little Black Liner, which has two tips, thick and small. The advantage of having two tips is that you can tailor the line to your eye shape, and depending on its shape, use a different tip to create an enhanced, bespoke look.
The last structural element in the eye area is mascara, and the lashes, no matter your look or style must have a mast mast impact. A great mascara lends the eyes personality that translates well on film, and makes the eyes stand out amidst the jewellery and intricate bridal couture. My favourite mascara that transforms eyelashes is YSL Beauté Lash Clash Mascara in Black. The densely bristled brush coats each lash in product and the rich obsidian pigment leaves a lasting impression.
CONTOUR? WHAT CONTOUR?
Each of the lovely Bollywood brides, aside from sharing a soft, neutral palette, appear to have little or no contouring… You may argue that these actresses are genetically gifted with great bone structure so they don't need any… I would agree except that different types of cameras forgive no one, so a touch of contouring is always helpful (but remember never necessary).
This close-up of Sonnalli is resplendent, and her cheekbones and nose look sculpted and natural, as if they have been crafted by Michael Angelo.
I love using a cream stick that sets quickly to achieve a naturally defined look, such as Westman Atelier Face Trace Cream Contour Stick (3 shades available, because it's easy to use. I dot lines down the sides of my nose, on my chin and the hollows of the cheeks. I use a dense brush to blend the lines, and the contour disappears and in its is place is a better-defined face.
If your skin is on the oilier side, a cool-toned powder can achieve the same effect.  I suggest trying the Make Up For Ever Artist Longwear Skin-fusing Contour Powder (5 shades available).
LIPS: SET AND SMILE
One of the best parts of a big fat South Asian wedding is the food and said food tends to veer towards greasier fare loaded with carbs and ghee. These gastronomical elements are the arch enemies of all manner of lip product, and a solid neutral liner is key to maintaining lips that are photo ready. Our lips come in a wide array of shades, including deep pink, dark mauve and sometimes a mixture of shades. The array is why I recommend the Clinique Quickliner™ for Lips because this collection contains many neutrals that work for our lips, such as, Neutrally and Intense Café.
The bridal outfits worn by this quartet of talent actresses ranged from cream to soft pink, all neutral, and all re-interpreted the South Asian bride in modern, timeless terms. Depending on the colour palette of your outfit, you will choose your make-up.  However, the advantage of a neutral bridal look is that the makeup can be used for any occasion, work or play… because they are neutral.
COLOUR ME NEUTRAL
The eyes are the focus, and it is important to select a palette that is neutral with metallic and stain finishes, so that the eyes catch the light in photos. The palette should also be richly pigmented so that you have an immediate colour impact upon application, rather than building up intensity and risking a caked on look.
Below are two eye shadow suggestions that suit all South Asian skin tones and flatter brown eyes:
Guerlain Ombre G Quad Eyeshadow Palette in Royal Jungle, a mix of brown and gold shades, that is intense and mysterious.
If you prefer a simpler eye look, Kulfi Zari Eyes Long-Lasting Crease-Proof Cream Eyeshadow is an excellent collection.  My favourite is Sitara Sparkles, a rose gold flecked with silver sparkles, that is cheerful and elegant.
Below are two blushes that are flattering on an array of South Asian skin tones, and like the eye makeup they have a satin feel, so that they add dimension to the face which looks natural in real life and lively in photos and video:
Nars Blush on Orgasm and its more intense cousin Orgasm X, suits a multitude of outfits. These shades leave anyone with a flushed look, as the name suggests, and the golden shimmer heightens the festive nature of the look.
If you prefer a creamier blush, the Shiseido Minimalist Whipped Blush, sinks into the skin, leaving behind a delicate sheen of pigment that photographs beautifully.
Unlike the eyes and cheeks, I recommend that the lips remain matte due to the aforementioned food challenges. Based on the shade of your neutral liner select a matching lipstick. These two lines provide matte coverage without the dryness:
Estee Lauder Pure Color Matte Lipstick is bursting with pigment and truly enlivens the face with unabashed colour. The colour in the tube is what you see on the lips, regardless of your natural lip colour. This collection has a Nudes selection, which consists of 10 shades.
If you prefer a liquid lipstick, Charlotte Tilbury Airbrush Flawless Lip Blur is fantastic. The pigment is solid and the formula hugs, without drying, the lips.
Going neutral might seem like an anathema to South Asian bridal beauty lore but clearly what started as a "one off" with Alia's timeless look, is gaining steam. The soft colours highlight the romantic nature of the occasion and lend it an intemporal quality that will look fresh in 50 years' time.
Main Image Photo Credit: www.instagram.com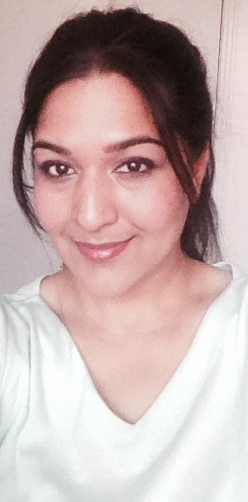 Author
Meena (@meenalaregina) always loved the idea of exploring the non-conventional idea of beauty. Having grown up as a pimply chubby teenager, she wanted to see the change in the world that best reflected your uniqueness as well. Her well-received collection of blogs where she tries on various beauty p...