Beauty /
Enhance Your Gorgeous Mahogany Skin Tone With These Key Brown Shades
Enhance Your Gorgeous Mahogany Skin Tone With These Key Brown Shades
Beauty Nov 16, 2023
Throughout this transitional season we have been seeing Bollywood explore the Latte trend, where it was not about pops of colour but the beauty was presented with a more muted vibe, thanks to neutral tones across the eyes, cheeks and lips. We take that trend and give it a next level push with what we can describe as Kerala Coffee beauty look. This time bringing key options for our gorgeous sisters who have the richest of melanin.  With our eye on Bridgerton's Simone Ashley (@simoneashley) and Charithra Chandra (@charithra17), renowned actress and filmaker Nandita Das (@nanditadasofficial), Bengali actress Shruti Das (shrutidas_real) and fashion designer Masaba Gupta (@masaba)  as our muses, we celebrate the full beauty of dark brown skin tones, with our key tips on how to use brown hues, shimmers and mattes to create a standout look. 
COMPLEXION – MATTE NOT FLAT
To create a canvass that will allows shimmery and intense matte shades to radiate, a soft matte complexion is key. Softness is important because mattes can veer towards flatness which diminishes the beauty of facial structure and mutes the radiance of colour cosmetics.  Remember that matte does not mean flat.  Esteemed Indian Actress Nandita Das is renowned for her fresh, natural aesthetic and her skin always look soft and beautifully finished, and is a great example of the soft matte complexion.
For foundation, I recommend the Tom Ford Traceless Soft Matte Foundation because it is pigment rich and a half pump is sufficient to cover the face, the liquid sets in seconds and does not budge when other make-up is applied.
For concealer, which is a key cosmetics item for many South Asian women, both stick and liquid formulations can work, and be used for different parts of the face.  I am pleased that Clé de Peau expanded the range of its legendary Concealer to 12 shades, and several of them are great for deep skin tones.  I like to lightly dab Toffee on my undereye circles, because it goes on lightly and does not sink into my lines, and stays put for hours.  Also the orange shade in the Toffee is prominent, so it covers and neutralises my dark circles, and then I blend a droplet of foundation on top, using a sponge, to create a uniform canvass.
If you prefer a liquid formulation, I like to use the following power combination.  I enjoy a colour corrector like Live Tinted Color Corrector Huestick in Rise, a powerful yam shade, because it goes on smoothly and creates a base upon which you can comfortably apply a liquid concealer that will set quickly.
For the concealer, I enjoy the Kulfi Concealer (my shade is Mango Drop), because it is easy to blend in and stays put for several hours.
Once you have created a smooth even complexion, we can have fun with colour cosmetics.
BROWN – THE EYES HAVE IT!
What I love about the trend around brown make-up shades is that they are natural fit with dark peepers.
If your style is to add a bit of artistry to your eyes, I recommend that Guerlain Ombres G Eyeshadow Quad Multi-Effect in the palette Undressed Brown, which is described as "quad of warm tones from matte brown to metallic copper."  The formulation is pigment rich, and one thin layer leaves a sheath of visible soft colour, and two layers is all about pop. The champagne shade is excellent to open the inner eyes, and if you are in a glamourous mode, populate the mobile lid in the metallic copper.  If you want a classic day look, I love using the shimmery milk chocolate brown in the mobile lid and then add a touch of the matte bark brown in the crease.  This quad will beautify dark eyes and dark skin.
If your eye make-up style is more "pop and go", as demonstrated by the gorgeous Bengali actress Shruti Das (see below), apply Kulfi Zari Eyes Eyeshadow in Bronze Brocade from the lash line to just above the crease and then proceed to mascara and liner.
The shimmer in this cream formula opens up the eye area creates a fresh, wide-eyed look.
Regardless of your eyeshadow style, as a South Asians, we understand that eye liner is part of our DNA.  Simone Ashley's sophisticated use of structured dark liner beautifully demonstrates the how liner is perfectly suited to the brown make-up look.
The placement of the eyeliner depends on your eye shape and distance between the eyes, for example, for close set eyes avoid applying liner in the inner corners so that you create the illusion of distance. To copy Ashley's look, I recommend the Vasanti Kajal Waterline Eyeliner Pencil in  Rich Brown or Black. This liner stays put on the waterline, glides easily along the lash line, and the pigment delivery is strong and lasting.
The final step for the eyes is to curl the lashes and apply mascara.  This step is important because it creates the opportunity to fully expose the whites of the eyes, which contrasts nicely with the brown shades. Benefit Fan Fest Fanning & Volumizing Mascara is a wonderful new mascara, which artfully separates and fattens my eyelashes, even the ones located at the innermost corners of the eyes, with no migration.  The curved applicator effectively combs through the lashes, and creates a feathery finish.
Once the eyes are set, I like to proceed to lips, because the intensity of brown shades necessitates balancing the lip colour carefully.
JAVA JOE LIPS
The sensuality of brown can easily be lost if we lose a use matte shade but it is also lost if we use a lip product that comes off on the coffee mug with each sip.  For the lips, I recommend two strategies: using a matte shade and adding a soft gloss to create a pout or use a stain.
My favourite matte lipsticks are from the Estée Lauder Matte Pure Color collection because the pigment payoff is intense and works with seamlessly with dark mauve lips, i.e. what you see in the tube is what you get on the lips. Amongst the 10 nude shades in the collection there are a several outstanding brown shades including Change the World, a sumptuous red brown which evokes the best of the nineties.
I like to apply this shade and then add a soft, glossy pinky brownie shade at the centre of the lips such as Clinique Chubby Stick in Curviest Caramel.  The goal is to maintain a 3D dimension to the lips and to attract light to the mouth area, as a matte=, dark age can create the illusion that the lips are smaller.  The formula glides on easily, delivers a hint of colour and most importantly is not tacky – so you get the gloss without the risk of having your hair stuck on your lips.
A second approach is to use a lip stain such as the Stila Calligraphy Lip Stain whose precision point design ensures that you deliver the stain perfectly and in the lip shape that you design.  The stain can withstand hot drinks and has enough pigment to flatter all shades of lips.
Once the two main sources of colour are addressed recommend an easy approach for the cheeks.
COFFEE CHEEKS
I think one the greatest universally flattering shade for all South Asian skin tones is Live Tinted Huebeam because it is a bronzer with a gradation of colour, and these colours range from soft gold to deep bronze.
This colour range hits the sweet spot for dark brown skin tones, because of the shimmer, and the shades are designed to enhance the innate brightness of the skin tones.  I recommend dabbing it on the apples of the cheeks… and then going out for coffee.
CAFE CONCLUSIONS
It is empowering to reclaim all shades of brown to create coffee-inspired looks that are classic and modern.  Browns skin, in all of its shades, looks sumptuous and stunning in shades of brown make-up.  Point final.
Main Image Photo Credit: www.instagram.com/simoneashley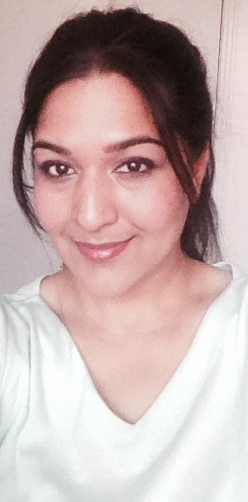 Author
Meena (@meenalaregina) always loved the idea of exploring the non-conventional idea of beauty. Having grown up as a pimply chubby teenager, she wanted to see the change in the world that best reflected your uniqueness as well. Her well-received collection of blogs where she tries on various beauty p...