Beauty /
We Are Loving Khushi Kapoor's Retro Beauty Vibe
We Are Loving Khushi Kapoor's Retro Beauty Vibe
Beauty Jan 17, 2023
Khushi Kapoor is giving us Archie vibes  as she gets her beauty on-point with the perfect winged eye liner, that's simply flawless. And let's not forget those Gen Z iconic bangs! 
She completed her look with blush pink cheeks and matching lip.
I mean how can you NOT love her look?!
Here's How To Get The Look: 
Eyes
MILK MAKEUP Infinity Long Lasting Waterproof Eyeliner Pencil
Lips
Ilia Balmy Tint Hydrating Lip Balm
Cheeks
Charlotte Tilbury Cheek To Chic Blush
The Archies is set to debut on Netflix in early May. And we can't wait to dive in and see what it's all about!
Main Image Photo Credit: www.instagram.com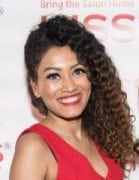 Author
Marriska (@marriska.fernandes) is an entertainment expert who has been creating celebrity, movies and pop culture content for digital outlets for over ten years. From reporting headline-grabbing celebrity news to reviewing movies to interviewing Hollywood and Bollywood's finest actors and industry...