Beauty /
Suhana Khan's Barely There Beauty Look Is Perfection
Suhana Khan's Barely There Beauty Look Is Perfection
Beauty Aug 10, 2023
Suhana Khan is making waves in the Bollywood biz even before her big Archies debut. With her nightlife, her business acumen (she just bought an investment farm!) and her big beauty contract, she is definitely making her mark. That's why we love her latest insta post where she seems to be flaunting her incredibly natural barely there beauty look and we are obsessed! 
Suhana Khan, daughter of Bollywood king Shah Rukh Khan looks radiant as she begins her entry into Bollywood. But it's her simple, neutral look that's what's caught everyone's attention.
She kept it simple by working on the eyes with minimal liner and mascara to accentuate that feature.
She applied a barely there gloss to let her natural lips shine. The rest of her skin looks like it glowed naturally.
Here's How To Get The Look:
Mascara
Benefit Cosmetics Fan Fest Fanning & Volumizing Mascara
Liner
SEPHORA COLLECTION Eyeliner Pencil To Go
Lips
Live Tinted Huegloss Hydrating High Shine Lip Gloss
When can't wait for more inspo from the young Bollywood beauty!
Main Image Photo Credit: www.instagram.com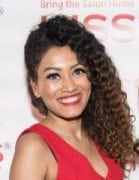 Author
Marriska (@marriska.fernandes) is an entertainment expert who has been creating celebrity, movies and pop culture content for digital outlets for over ten years. From reporting headline-grabbing celebrity news to reviewing movies to interviewing Hollywood and Bollywood's finest actors and industry...