Beauty /
Top Hair Perfumes to Obsess Over
Top Hair Perfumes to Obsess Over
Beauty Jul 13, 2015

From fruity floral fragrances to musky mists, there's a spritz for every mane. Here are our favourites.
Hair perfumes are all the rage right now. While some women enjoy spritzing a body perfume or mist on their hair, there are hair perfumes that do the job right. Not only does a hair mist or perfume keep your hair smelling fresh and scented all day long, but it also adds shine and softness.

Viktor & Rolf
Viktor & Rolf Flowerbomb Hair Mist ($128 CDN) is one of the most popular hair mists on the market. The floral explosion is a seductive scent with jasmine, orchid, freesia and rose concoctions.
Miss Dior
Miss Dior Hair Mist
($82 CDN) awakens the senses. This sweet, sensual scent is a blend of Damascus rose absolute, Italian mandarin and Indonesian patchouli that will make your tresses smell like a bouquet of fresh cut flowers.
Pink Sugar
Pink Sugar Hair Perfume
($23 CDN) is a flirty blend of vanilla and caramel that takes you on a walk through the wild side. Musk and wood is paired with strawberry, orange and raspberry to give you a bit of a sultry aura.
The Body Shop
Show Beauty
Show Beauty Decadance Hair Fragrance
($105 CDN) contains nourishing oils and vitamins that keep hair soft, smooth and silky. Not only is your hair left with a fruity, floral scent, but it's also enriched with aloe vera and other oils to strengthen your locks.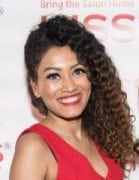 Author
Marriska (@marriska.fernandes) is an entertainment expert who has been creating celebrity, movies and pop culture content for digital outlets for over ten years. From reporting headline-grabbing celebrity news to reviewing movies to interviewing Hollywood and Bollywood's finest actors and industry...