Beauty /
Beauty DIY: Getting Your Feet Chappal Ready
Beauty DIY: Getting Your Feet Chappal Ready
Beauty Aug 21, 2015
It's wedding, party and festival season. Here are some tips to ensure your feet glow when you're wearing your favourite sandals.
Feet bear our full body weight and chafe in tight shoes. The chafing grates on the skin and in order to protect itself, the skin develops calluses, thick patches of dead skin which accumulate to protects the foot's tissue. A corn, is a type of callus which has a conical shape and the pointy tip jabs into the flesh.
At first, it appears that comfortable and beautiful feet are mutually exclusive concepts. I propose that the bridge between these two concepts should be built on smart foot care which takes your health, time and budget into consideration.
Diabetes Caution
The quick answer is getting a pedicure, but this is problematic for diabetics and the budget-conscious.
The Canadian Diabetes Association warns that South Asians are at a higher risk of developing type 2 diabetes. I learned from the Mayo Clinic website that diabetics who suffer even a minor cut during a pedicure could have an infection, which raises blood sugar levels, impedes healing and in extreme cases could result in amputation. Therefore, pedicures should be approached with caution and diabetics should speak to a physician beforehand.
Old School Methods
Pedicures in salons are expensive and sometimes unhygienic. Consequently, I get a pedicure quarterly and do my own at home, at my convenience. Until recently, I hated doing pedicures because I had to engage in yoga poses to reach my feet and buff away calluses. It was gross to watch my dead skin settle on the bathroom floor rather than in the garbage can. Exfoliating my feet in the shower was challenging as I had to balance on one leg while I applied a grainy cream to the opposite foot. Consequently, I quickly passed the cream over my feet and never achieved 100 per cent smoothness.
Achieving Happy Feet
I was intrigued by Clarisonic Pedi Sonic Foot Transformation kit which includes a Pedi-Wet/Dry Buffing Brush Head which buffs in the Pedi-Buff exfoliant. I attached the head to my Smart Profile, I squirted exfoliant on my feet and then glided the Smart Profile all over. My skin was revived.
My Smart Profile

My Smart Profile with Pedi-Wet/Dry Buffing Brush Head
Photo Credit: Meena Khan

My dry, battered feet
Photo Credit: Meena Khan

Applying Exfoliator
Photo Credit: Meena Khan

Applying Exfoliator
Photo Credit: Meena Khan
My feet are happier.
Photo Credit: Meena Khan
I then dried my feet and changed to the smoothing disc on my Smart Profile. I was rapt as my calluses were flattened in moments.
A new method from South Korea is the foot masque. The Feetreat Pedi by Look Beauty is filled with acids such as lactic, glycolic and salicyclic, and extracts from lemon and papaya. The masque comes in a pair of socks that you don for 60-90 minutes and after four to seven days the calluses will start to peel off.
Photo Credit: The FeetTreat Pedi
The thought is daunting but soft heels are incredible motivators. Technology allows everyone to achieve Pakeezah-pretty feet. The key is to understand your needs and select products accordingly.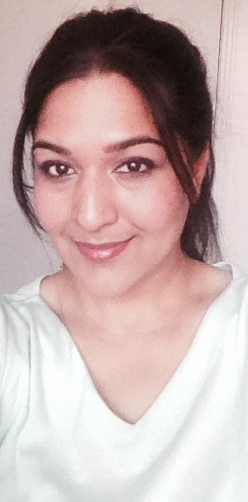 Author
Meena (@meenalaregina) always loved the idea of exploring the non-conventional idea of beauty. Having grown up as a pimply chubby teenager, she wanted to see the change in the world that best reflected your uniqueness as well. Her well-received collection of blogs where she tries on various beauty p...