Makeup Tips & Tricks For Women With Glasses

Who says you can't rock the specs with a dose of makeup?
Glasses have become more of a fashion accessory than a necessity since contact lenses and the option to go under the knife entered the market.

Celebs like Deepika Padukone, Sonakhi Sinha and Sonam Kapoor have been sporting chic frames onscreen and offscreen, so if they can do it, so can you! From Sonakshi's oversized black frames to Sonam's cat eye frames, these stars know how to pair the right makeup to suit the frames they love to sport.
Here's how to keep your fave glasses on from morning 'til night, from desk to dinner, in style!

Eyeliner
When it comes to complementing your frames, the general rule is: the thicker the frames, the thicker the eyeliner. Gel eyeliners are the best way to go. They immediately frame your eyes and create a sharp look. If you sport a pair of oversized black glasses, a black gel eye liner in line with your frames will make your eyes your best feature. My go-to eyeliner is Benefit Cosmetics' They're Real! Push-Up Liner, as it gives a well-defined, edgy yet iconic look.

If you're not sure, a winged liner is the way to go. You can always experiment with different kinds of cat eye flicks. The wider the frames, the more room you have to work on your eyes and the shape of the liner.

Foundation Much?
When sporting glasses, I try to keep the foundation around the nose and temple to a minimum so that it doesn't stick to the frames. But the real trick is to apply a layer of foundation and then use a beauty blender to even out the product. This way, you have a nice foundation set and it's blended enough to avoid messing with your frames. To be on the safe side, I always go for Maybelline's Dream Wonder Liquid Touch Foundation, which is the lightest product that gives complete coverage.

Conceal Away
Most glasses intensify your under-eye circles, and you don't want those bags and that puffiness to get in the way of your look. Using a good eye concealer is key. Mary Kay Concealer, which comes in seven different shades, covers every skin sorrow — from blemishes to scars. It's easy to apply and travel-friendly.

Shape 'Em, Brows
Just as the frames shape your face, brows create a stronger impact. A well-defined brow can take your look to a whole new level. Using Stila Stay All Day Waterproof Brow Color, you can fill in those brows and layer up the drama!

Mascara Magic
If you're worried that your mascara will hit your lenses, you can always go for volumizing mascara instead of a lengthening product. If that doesn't work, you can always go for an eyelash curler instead. Trust me. Eyelashes make a big, bold statement. I go for L'Oreal Paris Miss Manga by Voluminous.

Bold Pout
And of course, whether you opt for a bold frame, a funky one or a simple one, a dash of red lipstick will light up your face and immediately you'll see a difference. My favourite lipstick to make a splash and go all out is Estée Lauder Pure Color Envy Shine Lipstick, which transforms your lips and your attitude.

Highlight, Please
I was unsure if an illuminator would make any difference when sporting oversized frames, but I'm happy to report that once I tried Rodial Instaglam Glow highlighter just above my cheekbones, it made a huge impact. It lifted my cheekbones and still gave a geeky glow.

Cuppa Contour
I noticed that angular frames do define your face shape, but if you want an edgier look, contour is a great option. Not only does it give that chiseled, angled look but it also brightens up your face. Elizabeth Arden Sunkissed Pearls Bronzer and Highlighter–Warm Pearls will give a sunkissed glow to your face, making you chic and smart. 'Atta girl!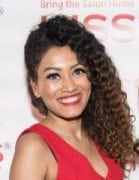 Author
Marriska (@marriska.fernandes) is an entertainment expert who has been creating celebrity, movies and pop culture content for digital outlets for over ten years. From reporting headline-grabbing celebrity news to reviewing movies to interviewing Hollywood and Bollywood's finest actors and industry...