Beauty /
Why Your Sunscreen Is Important
Why Your Sunscreen Is Important
Beauty May 04, 2015

The Canadian Dermatology Association defines sunscreen as "barriers which are applied to the skin. They work by absorbing or reflecting the sun's UV rays away from your skin."1
WHY SUNSCREEN?
Sunscreen helps prevent the damage caused by ultraviolet burning (UVB) rays and ultraviolet aging (UVA) rays. This is important for South Asians because, while the higher level of melanin in darker skin creates more protection, this melanin, when stimulated by the sun, darkens and thickens the skin.2 For example, the sun's rays cause brown spots and lines, deepen acne scars and enhance unevenness. Consequently, South Asians must apply sunscreen daily.
UNDERSTANDING SUNSCREEN
"SPF" refers to the level of protection against UVB rays.3 SPF of 30 means that if you go outside and burn after 10 minutes, the sunscreen allows you to stay outside without burning for 300 minutes (SPF 30 x 10 minutes).
Remember that wearing SPF 100 rather than SPF 50 doesn't mean that you are doubly protected. Dr. Wang wrote on www.skincancer.org, "An SPF 15 sunscreen blocks 93 percent of UVB radiation, while an SPF 30 sunscreen blocks nearly 97 percent."3
Sunscreen packaging in Canada doesn't specifically address UVAs but if a sunscreen is broad-spectrum, this means that it protects against both types of rays.1 In Asia, sunscreens are sold with SPF and PA+ ratings. The latter indicates the level of UVA protection with more pluses meaning more protection.
Many sunscreens contain titanium dioxide or zinc oxide, which looks ashy on darker skin. Ashiness is not an excuse to avoid sunscreen, but you should test how it absorbs on your skin prior to purchase.

APPLICATION
To avoid under-application, I apply standalone sunscreen products as the final step of my skin care routine. I follow the American Academy of Dermatology's guideline: "Use enough sunscreen to generously coat all skin that will not be covered by clothing."4 I also re-apply my sunscreen after exercise or if I'm sweaty.
After application, I clean up, eat breakfast and dress while the sunscreen absorbs for 15 minutes, and then I apply make-up.

LATEST PRODUCTS
I tested several products and was impressed by:
Shiseido Ultra Sun Protection Lotion SPF 50 for Face and Body: This is a lightweight liquid that conveniently absorbs quickly to a smooth finish to protect the whole body. The WetForce technology permits the sunscreen to become "more evenly spread to give better UV protection" when exposed to sweat or water. Perfect for exercise!
Fresh Brightening UV Shield Sunscreen SPF 50+: This lotion evens and protects the skin tone. It spreads smoothly, plumps the skin, adds radiance and absorbs quickly.
Kiehl's Clearly Corrective Dark Circle Perfector Broad Spectrum SPF 30: This is a great sunscreen for the eye contour area. Initially, it looks ashy, but after 10 minutes, the eyes look brighter and are protected!
Kiehl's Activated Sun Protector Broad Spectrum SPF 30: This product is a convenient spray that dries quickly, and you can position it upside down to reach areas such as the back and buttocks.
Footnotes
1. dermatology.ca/wp-content/uploads/2012/07/sunscreen_eng-2011.pdf
2. who.int/uv/faq/uvhealtfac/en/
3. skincancer.org/skin-cancer-information/ask-the-experts/does-a-higher-spf-sunscreen-always-protect-your-skin-better
4. aad.org/media-resources/stats-and-facts/prevention-and-care/sunscreen-faqs
Photo Credits:
Fresh and Shiseido images courtesy of Devon Consulting
Kiehl's images courtesy of L'Oréal Canada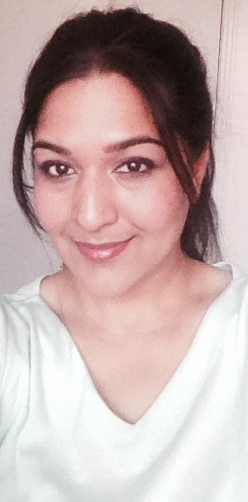 Author
Meena (@meenalaregina) always loved the idea of exploring the non-conventional idea of beauty. Having grown up as a pimply chubby teenager, she wanted to see the change in the world that best reflected your uniqueness as well. Her well-received collection of blogs where she tries on various beauty p...