Fighting The Frizz Factor
Beauty May 04, 2015

Frizz Be Gone!
South Asian women are renowned for their dark locks, which range in shades from badam ka halwa to kali mirch. What unites many of these diversely coloured locks is summer's humidity, which turns them into frizzy manes.
The primary cause of frizziness is dryness — either because the hair isn't naturally coated with the scalp's oils or because styling has stripped the hair. Consequently, the hair's outermost layer when brushed lifts up, allowing in moisture and resulting in a Chia Pet look.
The simple solution is to style hair with silicone-based products that add shine and temporarily seal the hair. The problem is that if the product is applied too closely to the roots or if you apply a touch of product even two days in a row, your hair will look like it was doused in ghee.
After much trial and error, I conclude that frizz-free hair is based on moisture and care. This foundation allows hair to be straightened, curled, pinned or tied into any shape or configuration.
Using moisturizing products in the summer is ill-advised because, with the humidity and sweat, hair is weighed down. So, focus on shampoos and conditioners that specifically deal with frizzy or unruly hair. When washing the hair, avoid product build-up using a dime-sized amount for medium hair and a quarter-sized amount for long hair.
Conditioner is essential. After removing oil and dirt, the roughed-up surface needs to be temporarily filled in and sealed to prevent split ends and breakage. The amount of conditioner that you use should match the shampoo and be applied to the lower half of the hair, which is drier and porous since it's older and farther away from the scalp's oils.
Once the conditioner is rinsed out, the hair should be dried gently by softly squeezing the water out and then patting it dry. This is more time-consuming but you'll spend less time smoothing the cuticle when you style it.
Once a week, skip the conditioner and apply a masque, which is an intensive cream treatment that you massage into the hair, particularly the lower half, and rinse out after 15 minutes. The masque acts like an enriched conditioner and leaves the hair silky for up to two days.
There are two lines that make my locks shine. Kérastase Discipline is designed to "tame the hair fibers on two different levels: in-depth for a solid structure and on the surface for a flawless finish." I tried the shampoo, Bain Fluidealiste, and the masque, Maskeratine. Typically, even though I tie my hair in a bun, my hair frizzes after the next shower. I have taken two showers after using this and my hair is still sleek!
I was intrigued by Shu Uemura Shusu Sleek because it uses the oil of the popular Desi spice, black cumin. The Smoothing Shampoo and Conditioner smell a bit spicy but fresh. They're designed to "intensely nurture the hair fiber, delivering frizz control & volume reduction."
These products complement the Discipline products and my hair looks smooth and professional.
Kerastase images courtesy of MacIntyre Communications
Shu Uemura images courtesy of retail site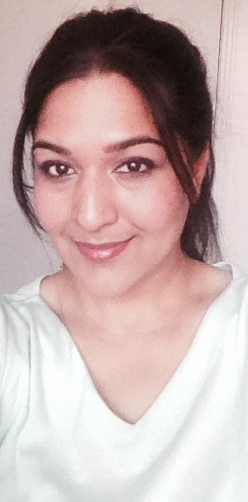 Author
Meena (@meenalaregina) always loved the idea of exploring the non-conventional idea of beauty. Having grown up as a pimply chubby teenager, she wanted to see the change in the world that best reflected your uniqueness as well. Her well-received collection of blogs where she tries on various beauty p...