Mother's Day Beauty Hot List
Beauty May 01, 2015

With Mother's Day Just around the Corner, It's Time to Pamper Mom with Some of the Finest Beauty Gems on the Market.

Cocoon Soft
Vichy's Ideal Body Balm is one of the most hydrating formulas on the market! It keeps its promise and delivers silky-soft skin. Firm, fresh skin with incredible softness and a glorious scent are just some of the rewards your mom can enjoy. You can take my word for it — this is the ultimate indulgence for a spa-like day!
$27.50 CDN
Dewy Finish
Lise Watier's Rivages Summer 2015 collection is bursting with swoon-worthy shades that are sure to bring a smile to mom's face. The collection includes a bronzing palette, an eyeshadow palette, a blush fondant, a smokey kohl (nude), a magic lip colour enhancer, a 24-hour glam eye shadow and a rouge sublime. This crisp collection can take mom from day to night with little or no effort.
Prices vary by product

Purifying Masque
If your mom has tried everything to get rid of her blemishes, then Sephora's Mud Mask Purifying and Mattifying is a great gift because it has the most heavenly scent that draws you in the minute you open the jar. This zinc-copper mud mask purifies the skin from deep within and unclogs pores, giving a blemish-free look. You sure won't hear her complaining anymore.
$24 CDN
Age Me Not
Reversa's UV Anti-Wrinkle Cream is created with the purpose of reducing those dreaded fine wrinkles she hates so much. It also has UV properties, so it's a perfect option for spring and summer. Bringing together the best of both worlds, the magic potion will protect your mom's skin from the sun while fighting wrinkles. What better way to help her remain the most timeless beauty in your life?
$37 CDN

Mom-Approved Madness
I love how The Body Shop has some of my mom's favourite products. This year, the it item for my mom is the delicious Mango Premium Gift Selection. The scent always takes me back home to the motherland, so you know all South Asian moms will appreciate the back-home nod. This luxurious gift contains goodies like Mango Body Butter, Body Scrub, Fragrance Mist, Lip Butter and Orange Mini Bath Lily. And that's how you treat her like a queen.
$45 CDN
One Minute Miracle
Clarisonic has introduced a range of shades this season. This faded rose Mia 2 is just one of the updated versions. A wonder product, this one-minute miracle keeper offers nothing short of the feeling of a day at the spa — perfect for the busy mom who just can't get away. I love how the Clarisonic Mia 2 delivers results with one use and all it takes is one minute. Don't take my word for it — gift yourself one too!
$180 CDN
Flawless Finish
Mary Kay's endless performance crème-to-powder foundation has a rich, velvety formula that gives perfect 12-hour coverage to hide any imperfections flawlessly — but it's also perfect for spring because it leaves a soft, matte finish. Mary Kay's line of cosmetics is a favourite among teens, tweens and moms. You can't go wrong with this one.
$21 CDN
Triple Threat
Her eyes will thank you for Vasanti's Eye Wonder Triple Action Peptide Eye Cream because not only does it combat those troublesome dark circles but it also fights puffiness and wrinkles in just one pot.
$42 CDN
Yoga Spell
Pai Skincare recently introduced two new 10-minute treatment masks to target blemishes and dull, dehydrated skin. While the Copaiba Deep Cleanse AHA Mask purifies the skin from blackheads, the RoseHip Bioregenate Rapid Radiance Mask boosts hydration with an ultra-nourishing impact. Pai collaborated with renowned yoga teacher Nadia Narain to create an exclusive guided relaxation. Nadia is one of the UK's best-loved yoga and meditation teachers. She has graced the pages of Vogue among other publications and she is recognized for her mindful approach to well-being.
$64 CDN
Puff Off
Benefit Cosmetics' Puff Off is the it item that has been buzzing in the beauty industry. In one swipe, the gel instantly removes any and all puffiness from a bad night's sleep. It's light and fits right into a purse for any mom on the go.
$29 CDN

One for All
If your mom hates the process of using a cleanser, then a toner, followed by a moisturizer, serum, primer and eye cream, then Mèreadesso's All-in-One Moisturizer is the key. It busts the beauty myth that you need multiple products for your daily face ritual. I hate the long skincare process and love how this one product covers all those essential needs. The tinted all-in-one moisturizer gives a hint of colour without going dry or cakey. And Mèreadesso offers dark and deep dark hues to complement South Asian skin tones.
$48 CDN
All images courtesy of online retailers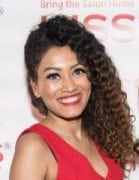 Author
Marriska (@marriska.fernandes) is an entertainment expert who has been creating celebrity, movies and pop culture content for digital outlets for over ten years. From reporting headline-grabbing celebrity news to reviewing movies to interviewing Hollywood and Bollywood's finest actors and industry...