Fashion /
Prabul Gurung's Spring 2015 Shoe Collection
Prabul Gurung's Spring 2015 Shoe Collection
Fashion May 15, 2015

The Prabal Gurung Shoe Collection Boasts Architectural Imprints and Feminine Flare.
Prabal Gurung has been a household name in the fashion arena for a while now, and I couldn't have been happier when I heard he has stepped into the art of (sigh) shoes. With his flare for edginess and eye for creativity, the New York–based designer has tapped into the accessory world with what looks to be a successful shoe line. He debuted his spring 2015 shoe collection during New York Fashion Week in October last year.

Sandals, boots and flats tapped away on the runway, stealing my heart with each step. Prabal Gurung shared two exclusive photos from his line during NewYork Fashion Week that had me at first sight.
As of now, only four sandals are available. The colour blocking scheme and knock-out cutouts add a modern yet feminine vibe to his line of stilettos. Architectural detailing embodies the heels that are essentially the soul of every shoe.

The first and my favourite pair is the all-black Prabal Gurung Georgia Heels that accentuate the curves of your feet with a pop of metal. You hear that? My heart just skipped a beat.
$692 CDN

The second pair, Georgia Heels by Prabal Gurung, welcomes spring with a dash of yellow and violet. Are we falling head over heels?
$692 CDN

This Prabal Gurung Cindy Heel is elegant and a neutral must-have. The nude shade is a welcome, softer take on the sporty versions of the colour block sisters, a great addition to any closet. I think I just found my soulmate.
$565 CDN
And the final pair available in the Prabal Gurung collection is the Cindy Heel with a turquoise touch. The sporty colour blocking theme against the sleek metal accent will make any woman melt.
$565 CDN

If Cinderella owned a pair of these, I bet she wouldn't have left them behind.
Instagram images: instagram.com/PrabulGurung
Images of shoes from talkshoes.com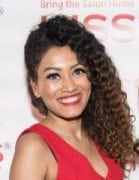 Author
Marriska (@marriska.fernandes) is an entertainment expert who has been creating celebrity, movies and pop culture content for digital outlets for over ten years. From reporting headline-grabbing celebrity news to reviewing movies to interviewing Hollywood and Bollywood's finest actors and industry...