Get The Look: '70s Boho Trend
Fashion May 04, 2015

This season's flare bottoms, mixed prints and flowy dresses bring out the boho vibe
Soft silhouettes such as flowy dresses and psychedelic prints are this season's hottest trend. No need to tell me twice that this season it's all about channeling the '70s boho look. Fringes, feathers and high-waisted denim have taken centre stage on both runways and stores so you know you've got to get hippie-chic if you want to stay on-trend. Here's how you can add some '70s flare to your wardrobe.

Prints
Make yours a flared-bottom, off-the-shoulder ensemble to give an ode to the '70s era of yesteryear. This H&M jumpsuit is a definite steal to channel the boho look.
$69.95 CDN

Floral Outbursts
Flowy maxi dresses with pretty blooms are a feminine take on the boho trend. This Bebe Print Lace Trim Maxi Dress with lace accents will help you bring out that hippie-chic vibe.
$139 CDN

Home-Inspired
If you're not a floral damsel, mix it up with patchwork prints like this Anupama Dayal must-have. This multicoloured dress brings together the best of both worlds that even your mom will love.
$434 CDN

Flare Me Away
High-waisted denims were a hot trend of the '70s, and needless to say, they've been making a comeback over the last few seasons. This Stella McCartney high-waisted '70s flare jean is a must-have for all you denim lovers.
$415 CDN
Short Shorts
As well as the jean, you can't skip the shorts to bring a lil' boho sizzle to your summer nights. I'm loving these Foxy Jean cut-off shorts with delicate lace detailing to bring out the soft, seductive side to your date night.
$45 CDN

Lace Crochet
Crochet dresses are one of my favourite boho pieces to hit the streets. I love this Rachel Sin Doina Dress, as it channels a young Audrey Hepburn. This dress certainly gives off a tongue-in-cheek sweet vibe reminiscent of the fashion icon.
$230 CDN

Boho-Chic Pendants
Free People has the trendiest boho jewelry pieces that I've seen to date. Be it feather finds or tassels, you can find something to your taste. My pick: this Free People Dreamer Stone Necklace with Art Deco–inspired stone pendant.
$46 CDN

Cuff-Off
Fringe and gold-plated pieces are among this season's hottest jewelry trends. This BCBG Snake Charmer Fringe Cuff completes any hippie look.
$48 CDN

Fringe Benefits
Fringe is another heavy trend in boholand, as it was also trending on the runways for spring 2015. You can pair this Free People Evermore Fringe Boho Bag with any cropped top or maxi dress and you're one stylish Bohemian.
$850 CDN

All images courtesy of online retailers.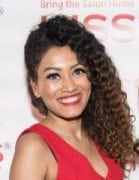 Author
Marriska (@marriska.fernandes) is an entertainment expert who has been creating celebrity, movies and pop culture content for digital outlets for over ten years. From reporting headline-grabbing celebrity news to reviewing movies to interviewing Hollywood and Bollywood's finest actors and industry...