Pasta Inspired Diet!
Culture & Lifestyle Aug 09, 2013

Registered dietician Andrea Holwegner sheds some light on carbs, pasta and how people can incorporate healthy Mediterranean dishes into their daily meals.

Pasta means carbs, right? Well, research shows that Mediterranean diets could actually prevent chronic diseases. We sat down with registered dietician Andrea Holwegner, who spills the beans on carbs, pasta and even shares some delicious recipes.

Marriska Fernandes: How can people incorporate the Mediterranean way of eating into their regular meals?
Andrea Holwegner: Peer reviewed scientific journal articles report that the Mediterranean diet is one of the healthiest diets on earth for preventing chronic diseases, including heart disease, stroke, cancer, diabetes and obesity.
The Mediterranean diet is rich in plant-based foods such as grains like pasta and bread, vegetables, fruits, legumes, nuts, seeds, olive oil as well small portions of fish, seafood, lean meat, cheese and wine.
Easy ways to incorporate more Mediterranean eating patterns into your regular routine:
· Don't be fat phobic! Some people have been unnecessarily removing even healthy fats out of their diet. Research is showing it is the type of fat that is most important. Healthy fats in the Mediterranean such as olive oil, nuts and fish are good things to eat regularly.
· Pro pasta: The Mediterranean diet includes pasta as a staple. Use a good quality pasta cooked al dente and enjoy healthy additions such as olive oil, nuts, grilled seafood, beans, tomatoes, plenty of veggies and a sprinkle of strong cheese for flavor. For added protein, fibre and omega 3 fats (which are all key nutrients in the Mediterranean diet, try the new Barilla PLUS pasta)
· Boost your veggies! The Mediterranean diet includes a wide variety of veggies and fruits. Try something new such as eggplant, arugula and broccoli rabe. They are all loaded with phytonutrients to prevent cancer and heart disease. Try grilled eggplant slices brushed with olive oil and garlic on the BBQ.
Try arugula on a mushroom pizza or as a salad with a lemon and olive oil vinaigrette. Try broccoli rabe sauteed or roasted with olive oil, balsamic vinegar and topped with toasted nuts.
. Sensible portions of seafood and meats: If you like fish and seafood these are great additions to your weekly supper meals. Choose small portions of meat, poultry and cheese for protein. The Mediterranean diet emphasizes a plant-based diet, which is not only good for you, but it is also good for the environment.
· Find balance: The Mediterranean is known for both whole grains as well as some white breads, white pastas, couscous etc and they still achieve good health. Asia is the same with white rice. No extremes are necessary – food needs to be both healthful and soulful. You don't need to eliminate white foods such as white rice, white pasta or white bread totally out of your diet. Health Canada suggests consuming half or more of your grains as whole grain.
MF: What are the facts, myths and misconceptions of carbs?
AH: While several popular fad diets suggest eliminating grains, wheat or carbohydrate from your diet, scientific evidence experts including Health Canada and Dietitians of Canada do not support this.
Excess calories can create weight gain – not healthful portions of pasta. In fact pasta fits in a healthy diet and is part of the Mediterranean diet, being considered one of the healthiest diets in the world. When consumed in the recommended amounts and combined with healthy accompaniments, pasta can provide the foundation for a heart-healthy, balanced diet.
MF: What would you say are the benefits of pasta?
AH:
As a complex carbohydrate, and when cooked al dente, most pastas have a low Glycemic Index value, making it a great way to get grain-based foods into your diet. Low Glycemic Index foods promote satiety and go into the blood stream slowly preventing blood sugar rushes, which is better for your health.
In addition, it's tasty, easy to make and can be a source of B-vitamins and fibre. To benefit from even more nutrients from your pasta meals, consider adding a nutrient-rich pasta into your weekly dinnertime routine, like Barilla PLUS (this multigrain pasta contains protein, fibre and omega-3 polyunsaturated fatty acids). This is a quick and easy solution for providing a delicious balanced meal that even the pickiest eaters in your family will enjoy.
MF: Can you suggest a few healthy vegetarian Mediterranean dishes?
– Pasta with fresh tomatoes, aromatic herb pesto and ricotta Salata
– A simple pita with hummus and Greek salad and/or Tabbouleh salad (cucumber, tomatoes, onion, parsley, bulgur)
– Caprese Salad (sliced tomato, bocconcini cheese, fresh basil, drizzled with olive oil and a splash of balsamic vinegar). Serve with bread, or toss the salad on pizza bread and bake.
– White bean-based soup with loads of vegetables (including tomatoes, onions, zucchini, carrots) and served with bread for dipping in olive oil and balsamic vinegar
MF: Can you suggest a healthy non- vegetarian Mediterranean dish?
– Roasted vegetables (for example, red pepper, zucchini, mushroom) with grilled chicken and couscous. To roast vegetables, slice, brush with olive oil and salt and pepper, and roast in the oven or on the grill
– Eggplant Parmesan served with a baguette with olive oil and balsamic vinegar.
Tip: to prepare the eggplant parmesan, slice the eggplant in round disks, dip in flour and pan-fry in olive oil. Then, place in a baking dish with tomato sauce and top with basil and cheese. Bake until melted.
– Seafood Risotto or pasta served with fresh arugula tossed with vinaigrette (fresh lemon, olive oil, salt and pepper and a pinch of sugar).

MF: Any healthy Mediterranean dishes that incorporate Indian spices?
– Indian spiced butternut squash (roast a butternut squash and add in a fusion flavour of an Indian spice in lieu of salt and pepper, which is traditionally Mediterranean style). Serve as a side dish or scoop it out and blend it into a soup. Could serve with nann bread instead of pita bread or baguette.
– Lentils and chickpeas are often used in salads and soups regularly in Mediterranean cuisine. Add Indian spices into some of the traditional legume-based Mediterranean meals as an alternative.
MF: What would you say are the essential Mediterranean spices and seasonings?
AH: Garlic, Basil, oregano, rosemary, tarragon, sage, capers, onions and anise for flavour, olive oil, balsamic vinaigrette and red wine
CREDITS:
Photo Credits: Photo Courtesy of Barilla PLUS (Zeno Group Canada)
http://www.barilla.ca/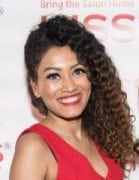 Author
Marriska (@marriska.fernandes) is an entertainment expert who has been creating celebrity, movies and pop culture content for digital outlets for over five years. From reporting headline-grabbing celebrity news to reviewing movies to interviewing Hollywood and Bollywood's finest actors and industr...