India Celebrates 67th Independence Day!
Culture & Lifestyle Aug 12, 2013

India celebrates its 67th Independence Day today on August 15th, celebrations are taking place all around the world.
This national holiday is celebrated to commemorate the nation's Independence in 1947 from the British colonial rule. Led by the Indian National Congress (INC) and through methods of civil disobedience and non-violent resistance, India's celebrations coincided with the Partition, the division of the Indian British Empire into the two nations – India and Pakistan.

In Delhi, India's capital city, the Prime Minister 'Manmohan Singh' delivered a speech and hoisted India's flag at the Red Fort. The event is celebrated all around the world with flag hoisting ceremonies, parades, and cultural events.
Indians also celebrate this day with the display of the national flag on their attires, cars, and other items, singing and listening to patriotic songs, and watching patriotic films – favourites among them have been classics like Manoj Kumar's Purab Aur Paschim (1979), Mehmood Khan's Mother India (1957), and Aamir Khan's Rang De Basanti (2006) that are known to stir the patriotic soul of Indians both at home and NRIs alike as they remember the heroes who led the Independence movement.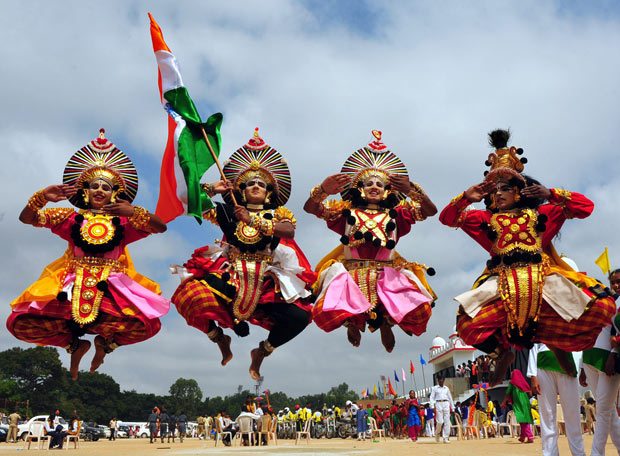 Celebrations at Red Fort, New Delhi /Sandeep Saxena

On August 10th, celebrations were held in Toronto as top Canadian leaders including Ontario Premier Kathleen Wyne, MPs, and ministers joined thousands of Indians in celebrations this weekend. Premier Kathleen Wyne who congratulated Indians during the day long celebrations at the Yonge-Dundas square. Organized by Panorama India, the celebrations were held with cultural performances and a beautiful and vibrant parade in the heart of the downtown.
Toronto, Canada celebrated India's Independence Day/newseastwest.com

Ontario Premier Kathleen Wyne said, "It is a wonderful celebration and I wish you a safe and happy Independence Day." She also praised Indo-Canadians for their contribution to enriching Canada through both their economic contributions and also for their role in playing an important role in Canada's cultural diverse mosaic.
Senator Asha Seth read Prime Minister Stephen Harper's message of greetings for Indo-Canadians. He said, "On August 15, 1947, the Indian national flag was raised for the first time and a new nation was born. Since that time, India has come into its own as a vibrant democracy and an emerging economic superpower, predicted to be the world's third largest economy by 2050." Canada stands ready to deepen our significant partnership with India in order to advance our common interests and to promote new opportunities for economic development and international trade for the benefit of both our peoples.
Describing Britain's ties with India as "a special relationship", Prime Minister David Cameron has said the best is yet to come for bilateral relations.
Cameron congratulated India on the eve of its 67th Independence Day and praised "vibrancy of its democracy, the strength of its diversity and the power of its economy."
In an article published by Asian Lite here, the British prime minister said he want to strengthen the relationship between the "world's oldest democracy and its largest."
British Airways (BA) will offer a 15% discount for business class passengers to the UK and the US if they buy tickets between August 15 and 18. The airline announced the discount to mark India's 67th Independence Day.

Vidya Balan Anna Hazare
This year Bollywood actress Vidya Balan and Indian social activist Anna Hazare have been invited to New York's annual Indian Independence Day parade on August 18th. The India Day parade is organized by the Federation of Indian Associations (FIA) New York and New Jersey chapter in the streets of Manhattan.
Hazare, 76, is schedule to arrive in New York on August 16. He will visit the United Nations headquarters in New York, meet lawmakers at the Capitol Hill; besides interacting with students and academicians in San Francisco, Maryland, the University of Pennsylvania in Wharton and the Columbia University.
Balan will also be honoured as the grand Marshall of the parade. The two honoraries will be joined by former Indian Chief of Army Staff General V K Singh, Prime Minister of Antigua and Barbuda Baldwin Spencer, FIA (NY-NJ), Tamil film star Sarath Kumar (president of South Indian Artists Association) and his wife Radhika Sarath Kumar who is also a well-known television and film actress will also join him.
Expected to attract more than 150,000 people this year — the 31st annual Indian Independence Day Parade in New York, USA is expected to be a gala event. The landmark event is already the largest Independence day celebration outside India.
Indian Residents celebrating in Dubai (Zarina Fernandes/Gulf News)
There were celebrations all around the world including in Abu Dhabhi and Dubai. M.K. Lokesh, Indian ambassador to UAE hoisted the flag followed by cultural performances. Amng 500 members of the Indian community including students, teachers, businessmen, and workers attended the event. Sanjay Verma, India's Consul General, hailed the bilateral relations between UAE and India.
He said in a speech about India's diversity and "inclusive national model and stressed that India was stronger than ever before in its history and prepared to deal with any challenge that comes its way."
FeatureImage: http://www.wikiindiaforums.com
Images Vidya Balana& Anna Hazare:IBNlive.com
Source: = ibnlive.in.com, news.oneindia.in, static.indianexpress.com, sathyasiababa.wordpress.com, gulfnews.com, newseastwest.com, and articles.timesofindia.indiatimes.com,trackmstatus.in