Fashion /
World MasterCard Fashion Week F/W 2014 Highlights
World MasterCard Fashion Week F/W 2014 Highlights
Fashion Mar 24, 2014

Toronto hit centre stage last week with the success of World Mastercard Fashion Week F/W 2014
Designers from across the country came to showcase their Fall/Winter 2014 collections which included David Dixon, Soia & Kyo, Matthew Gallagher, Stephan Caras to name a few as well as stellar representation from South Asian talent via Anu Raina and HD Homme.

Fashion mavens from the industry along with enthusiasts such as myself took to our seats and waited in anticipation for the vibrant collections that will hit stores in the next few months. We were treated to designer creations that left many, including me, awestruck!
SOUTH ASIAN ELEMENT
Anu Raina , known for her signature printwork hit the mark with her collection titled T.O². Her line was filled with rich hues and lovely tones, inspired by Toronto's autumn season. Each of her prints dissected Toronto's neighborhoods such as Yorkville and Parkdale, spun a beautiful piece of the city's sky line and even included sheer tops, hints of leather and retro numbers. If it's not obvious already, she's clearly one to watch out for.

Anu Raina Collection
Hussein Dhalla, the master self-taught designer brought his first menswear show, HD Homme, after making a splash at last season's Mercedes-Benz Start-Up which was warmly welcomed. His F/W collection dwelled on elevating the gent to a sophisticated level with luxe fabrics and unusual quirks. Multiple pleats, leather accents, sequins, velvet and lush woolen pieces all added to the impeccable tailoring, giving the male form dazzle appeal. His spin on the classic dinner jacket was what scored brownie points for me.
HD HOMME Collection
Melissa Nepton captured a feminine athletic vibe with streaks while staying true to her brand. Using prints on most of her pieces, Melissa managed to create effortless looks that were appreciated by many. Key pieces that stood out from her collection included the tracksuit-inspired coat and the casual chic mini dress.

Melissa Nepton Collection
Dapper coats and tweed jackets from the Soia & Kyo collection were among the much-anticipated pieces this year. Stand-out pieces included the fur-trimmed hoody and the coveted oxblood trench. The warm grey tones in her puffed jackets and trenched certainly made winter much more welcoming.

Soia & Kyo Collection
Of all the brands that made their Fall/Winter 2014 debut, the ones that stole my breath away were Joe Fresh, Matthew Gallagher and Stephan Caras.
Continuing the Mimran combo, Joe Fresh came as a refreshing nightcap of trademarked vibrancy, only adopting cheaper versions of his wife's furs.

Joe Fresh Collection
Matthew Gallagher brought his minimalist collection to the runway with cut-outs and daring necklines. Using a mixed palette of white, black, oxblood and shady green, Matthew brought his famed silhouettes to the forefront.

Matthew Gallagher Collection
Seasoned designer Stephan Caras set the stage on fire with his collection of bold cut-out dresses and sleek silhouettes. The plunging backlines and injection of color simply made the entire show a power-packed finale. My favorite piece was the floral black gown that exploded on the runway with a mix of grace and sensuality. He is one designer that always manages to win me over with his evening pieces.

Stephan Caras Collection
Every one held their breaths as David Dixon unveiled his bridal line for Hudson's Bay. The Canadian veteran, who is known for his spectacular evening gowns, switched chords as he intertwined evening looks with off-white figure-hugging wedding dresses. His collection titled 'White Label' included fishtail gowns, a one-shoulder Grecian-style piece and even a pantsuit (gasp!). The fabrics varied from embroidered French lace to chiffon and silk that left everyone in awe.

David Dixon Collection
Kimberly Newport-Mimran unveiled her Pink Tartan Fall/Winter collection to a crowd who envied her infamous A-line skirts and plaid jackets. Be it embellished gold skirts or oversized jackets, Pink Tartan managed to please the fashion industry with her simple yet elegant aesthetics.

Pink Tartan Collection

Featured Image: Stephan Caras -HDHOMME -Anu Raina
All Images courtesy of worldmastercardfashionweek.com/George Pimentel / Getty Images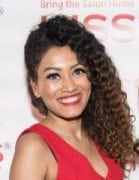 Author
Marriska (@marriska.fernandes) is an entertainment expert who has been creating celebrity, movies and pop culture content for digital outlets for over ten years. From reporting headline-grabbing celebrity news to reviewing movies to interviewing Hollywood and Bollywood's finest actors and industry...