Trend Alert: Custom Name Necklaces
Fashion Nov 16, 2013
Personalized Name Necklaces Set To Be a Hot Trend This Season
Recently, yummy mummy Kim Kardashian was spotted with an adorable gold 'Nori' necklace around her neck in Paris. Nori is the nickname for her daughter North. First-time parent Drew Barrymore, who gave birth to daughter Olive just over a year ago, has been seen wearing a necklace in her daughter's honor, while mother of two Jessica Alba has also been photographed sporting a gold 'H' initial necklace for her girls Honor and Haven.
But it's not just celeb mamas who are rocking jewelry to pay tribute to those close to their hearts.
Glee star Lea Michele has been spotted wearing a 'Cory' necklace, in honor of her late boyfriend Cory Monteith, who tragically passed away in July due to a drug and alcohol overdose.
Here's my list of a few thoughtful and custom-made gifts that are sure to warm the hearts of your loved ones and make the holidays extra special.
Nayme (Nayme.ca)
Expressing one's name through jewelry is thoughtful and fun.
Nayme has come up with a personal and beautiful way of representing the meaning of your name on a necklace.
It's a perfect gift for friends, family or that special someone who makes your life meaningful.
The pendants are made in Canada from high-quality, tarnish-resistant .925 sterling silver and finished by experts with decades of experience.
The box is beautifully wrapped with a black ribbon and includes the origin of your name, its meaning and their representation of your name.
My name means star of the sea and the gorgeous star symbol seems just perfect to me.
Aren't you excited to check out yours?
My Name Necklace (Mynamenecklace.com)
Remember how Carrie carried her name on a necklace with great style and oomph?
Well, that trend is certainly back.
Mynamenecklace.com not only brands your name on a necklace, but also allows you to customize it Carrie style – monogram or engraved.
For the love birds, they have a Love collection, Swarovski collection, Diamond collection and many more exciting pieces.
You can even preview what your name necklace would look like in the Name Preview section.
Check out the fancy ways you can display your name to the world.
Namefully (Namefully.ca)
Want to add a bit of pizzazz to your name with, say a flair of Arabic or Hindi? No problem.
Namefully can customize your name in several languages including Arabic, Hebrew, Russian, Chinese and Hindi.
And it's not just necklaces that are available here. You can also explore their collection of rings, earrings, bracelets and body jewelry.
Whether you want one for yourself or your loved one, these exquisite pieces are one-of-a-kind for the heartwarming holiday season.
Connect and share your own name necklace pics with us.
Source: Nayme.ca, Mynamenecklace.com, Namefully.ca
Feature Image: Tvrage.com
Other Image: Nayme.ca
Second Image: Mynamenecklace.com
Third Image: Namefully.ca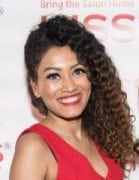 Author
Marriska (@marriska.fernandes) is an entertainment expert who has been creating celebrity, movies and pop culture content for digital outlets for over ten years. From reporting headline-grabbing celebrity news to reviewing movies to interviewing Hollywood and Bollywood's finest actors and industry...