One-On-One With Zara Durrani
Fashion Dec 16, 2013

Zara Durrani gives us the scoop on how Fashion Hope is raising awareness in the fashion industry.
Born out of passion and making waves in fashion is project Fashion Hope. They are using fashion as a vehicle to help spread awareness of human trafficking. Involving everyone from industry experts and press to celebrities and designers, their mission is to engage everyone. We chatted with actress Zara Durrani, the ambassador for Fashion Hope. She gives us the scoop on Fashion Hope and how she plays a part in it.
Marriska Fernandes:Tell us about Fashion Hope and what you're doing to raise awareness?
Zara Durrani: I have been working as the Global Ambassador for Fashion Hope since January 2013. As the Ambassador I travel to charity and major fashion and film events across North America to build awareness about human trafficking and Fashion Hope.

Pic credit: fashionhope.org
MF:How did you get involved in Fashion Hope?
ZD: I was working on a feature film in Canada when the CEO of Fashion Hope Marc Palmer approached me. He had heard of my television show 'Life and Style' with Zara and my involvement with other charities. I felt it was a great fit since I had been wanting to get involved and build awareness for such an important issue.

MF:What are some of the most recent projects involving Fashion Hope?
ZD: Recently I was in Toronto for TIFF (Toronto International Film Festival) and Toronto Fashion Week. Before that, I also represented Fashion Hope in New York and LA for Fashion Week. We have been working to raise funds for various shelters as well as AbolishSlavery.org

Pic Credit: lifeandstylewithzara.com
MF: What's in store for Fashion Hope in 2014?
ZD: Fashion Hope is planning on launching an online store where consumers can purchase ethical, slave free designer items, and all proceeds will go to the various shelters and charities that we support.
MF: Apart from Fashion Hope, what are you working on?
ZD: I just finished shooting with TJ Scott for volume 2 of 'In the Tub' book series, which will go on to benefit breast cancer research. Starting in January, I will be working with Reel Causes in Vancouver as their board member and Spokesperson. Reel Causes is a Vancouver-based registered BC non-profit society that raises funds to support community organizations that affect positive change both locally and globally. Each month, Reel Causes partners with a different charity or non-profit society for a film event at SFU Woodwards' Djavad Mowafaghian Cinema in Vancouver.
MF: We heard that acting is your first love. Tell us about that?
ZD: I have been acting and performing since I was 3 years old. Last year I starred in 4 feature films that were shot in Canada, Mexico and the US. I love the idea of losing myself in each character that I play and, in turn, I learn more about myself. Acting is like yoga for me, very healing, spiritual and cathartic. I also had a guest star role on the US Network show Psych a few months ago.
MF: What advice would you give to young adults who want to enter the entertainment/fashion industry?
ZD: My advice to anyone wanting to enter the entertainment industry is to do it, but be prepared to work hard, very hard. Never take no for an answer. You really have to believe in yourself and get ready to be rejected, a lot. A piece of advice that one of my teachers gave me is: don't wait for the work to come to you. Create your own work. That's how I produced and hosted 2 television shows, one of which was national across 4 networks in Canada, Life and Style with Zara.
Featured Image: dapontestyle.com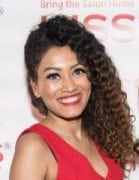 Author
Marriska (@marriska.fernandes) is an entertainment expert who has been creating celebrity, movies and pop culture content for digital outlets for over ten years. From reporting headline-grabbing celebrity news to reviewing movies to interviewing Hollywood and Bollywood's finest actors and industry...