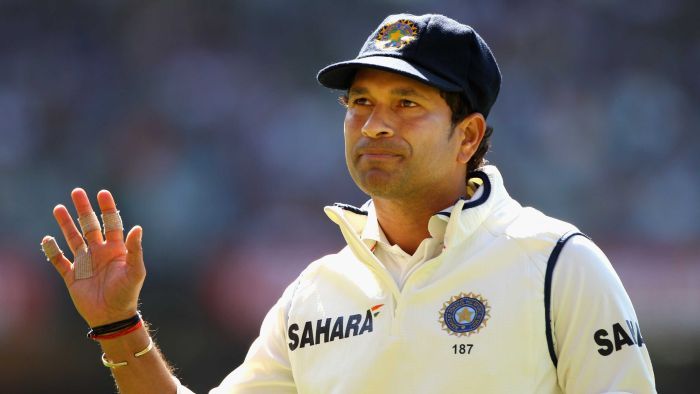 Sachin Tendulkar Retires With India's Victory In Mumbai
Culture & Lifestyle Nov 16, 2013

Sachin Tendulkar says goodbye with teary eyes to emotional fans screaming "Thank You Sachin."
Wife Anjali was in for a surprise as the quintessential team man could not hold back his tears as he was given a guard of honour by Team India in front of emotional fans at Wankhede.
Time stood still as 1.2 billion Indians bid farewell to the 'God of cricket' at Wankhede Stadium, Mumbai on Saturday. Sachin Tendulkar was finally saying goodbye to cricket, with never-before-seen tears on his face. The West Indies only hastened Tendulkar's retirement by some poor cricket as the Caribbeans lost by an innings and 126 runs. The Mumbai Test was not about the runs or winning, it was all about Tendulkar's farewell. It was time to say a big thank you to the 'God' of cricket for entertaining the world with 24 years of extraordinary cricket.

Sachin Tendulkar's wife Anjali (L) along with her mother (2L) and father (R)son Arjun (2ndR) during the India vs West Indies 2nd Test Match at the Wankhede Stadium in Mumbai. /PTI Photo
The Master Blaster finally ends with a total of 34,357 runs in international cricket and 15,921 runs in Tests. These numbers, in all likelihood will never be replaced.
There were already many moist eyes and choked voices on Friday after Tendulkar walked back to the pavilion scoring 74 runs. On Saturday, there must have been countless more as a visibly emotional Tendulkar walked into the shadows of folklore. He has after all been a great ambassador of the sport and touched the lives of a billion people. He has been the single biggest inspiration to Indian cricket over three generations after making his Test debut against Pakistan on November 15, 1989.
In his final appearance on the cricket field on Saturday, Tendulkar walked to the middle, uprooted a stump, hugged MS Dhoni and joined his fellow players who too were clearly battling back tears as they gave a guard of honour to the maestro. It was time to bid the legend a formal goodbye as Wankhede rose on its feet and chanted "Sachin, Sachin" for one last time. "It was the biggest match in cricket history and one we will never witness again," said Dhoni. Opposition skipper Darren Sammy too was overawed by the occasion. "Indian fans have set a benchmark in how to treat a champion," he said at the post-match ceremony.
India players formed a guard of honour for Tendulkar, who was presented with a host of awards in a lavish ceremony.

Sachin Tendulkar walks amid a guard of honour on Saturday after winning the test match against West Indies/ PTI
"It's hard to believe that wonderful journey is coming to end," a clearly emotional Tendulkar told a packed Wankhede Stadium.
"It's getting a little difficult to talk but I'll manage. The most important person in my life, and I've missed him a lot since he passed away in 1999, is my father, without his guidance I don't think I'd be standing in front of you."
As Mohammad Shami scalped the final wicket, every single Tendulkar fan in the stands and on the field, stood as one to bid adieu to Tendulkar. Today, Team India did not have eleven players – it had a billion. And the signboard at Wankhede read: You will always be remembered!
After releasing an emotional video over partition, Google Search today turned emotional again when Sachin Tendulkar played the last test match of his career in Mumbai. Here is short video dedicated to the legend:
Bid farewell to the international cricket legend, post your comments below.
Feature Image: www.abc.net.au
Source: NDTV.com, Telegraph.co.uk ‎,timesofindia.indiatimes.com,www.bbc.co.uk, PTI