Fashion /
Beauty Tips To Get The Nineties Look Now!
Beauty Tips To Get The Nineties Look Now!
Fashion Jan 24, 2018
The nineties are all the rage, and we've got some cool beauty tips to get the nineties look now!
As I approach middle age, I have come to disagree with the famous expression, "Plus ça change, plus c'est pareil"  — at least in the realm of beauty.
I have survived a plethora of nineties make-up disasters, like:
overdrawn lips with contrasting liner
brown lipstick blindly used as my go-to nude because, hey, I am a brown girl
using foundation and concealer so matte that I looked like I was suffering from attah syndrome (my term for overdone foundation and powder)
a flattened face because I used a brown blush to look "natural"
Undoubtedly, my taste in makeup colours and textures has improved. And with technological improvements in skin make-up, I embrace rather than face the return of nineties makeup.
The key is to focus on the principles of nineties makeup and then apply them specifically for your skin type and tone.
Complexion: Matte, Not Flat
For women with excess sebum or fine lines, a mattifying primer such as Urban Decay De-Slick Complexion Primer is worth its weight in gold. This thicker base is colourless and won't leave an ashen finish. It smoothes the surface of your skin and absorbs sebum. I like to spot-apply this wonder-product on my T-zone and then proceed to foundation and concealer.
The nineties heralded two distinct foundation trends. The first was the modern take on Max Factor's pancake make-up, which was made in sticks. The sticks twisted up and, in a few strokes, you could perfect your complexion. Sticks have returned, and modern products like Nars Velvet Matte Foundation Stick (20 shades available) come with a built-in sponge, which simplifies blending and saves space in the make-up bag.
When I need more coverage, Diorskin Forever foundation (24 shades available) is ideal. The soft liquid glides on seamlessly, blends in effortlessly and leaves a soft finish that blunts greasiness without muting the dimensions of your face.
I fondly recall that, in the nineties, Bobbi Brown Cosmetics had a pot concealer that karate-chopped my dark circles. Two decades later, I'm thrilled to report that Bobbi Brown Instant Full Cover Concealer (15 shades available) is the liquid version of that beloved pot formula. The liquid doesn't cling to my fine lines, and it masks the blue under my eyes.
Eyes: Contrast, Define and Have Fun
In my bid to look "natural," in addition to matte brown lips and blush, I insisted on using matte brown eyeshadow. The matte brown made me look tired and didn't flatter my brown eyes. The trick is to use different shades and textures of brown on your eyelids to attract light.
A palette of light, medium and dark shades is ideal. Try the Vasanti Synchronicity Eyeshadow Trio Kit in Inevitable, which also offers a bit of shimmer. I like to apply the palest shade on the upper lid, go in with the medium shade in the crease from the inner corner to the mid-eye, and then complete the crease with a layer of the dark shade.
Soft browns will brighten the eyes, but liner brings the requisite gravitas. The nineties were all about dark, inky liner — and I worked my kajal with a capital K. I now appreciate how Shiseido Inkstroke Eyeliner uses Japanese calligraphy to softly define my eyes so that they — not the liner — are the focus of my look. The miniature brush stands strong yet bends softly against the delicate eyelid to deliver the perfect amount of long-lasting definition with each stroke.
The nineties weren't about strong eyelashes (except when it came to colour — see below). A fanned lash completed the natural look. Givenchy Noir Interdit Mascara boasts an applicator that looks like a miniature doll's densely bristled comb. It bends up to 90 degrees to accommodate every single lash.
I'll never forget when L'Oréal released a limited-edition Voluminous mascara in marsala while I was studying at McGill for my first degree. I'd never seen such a bright mascara, and I'm pleased that the trend has returned. The challenge for dark brunettes is finding a mascara with colour that shows up. Estée Lauder Pure Color Envy Lash Multi Effects in Purple fits the bill, framing my eyes with amethyst highlights.
The product stays on all day, and the dense bristles ensure that each lash is separate colour-coated.
Cheeks: Puzzle Solved
As I mentioned above, I used a matte brown blush to look natural. Hindsight confirms that I looked like I was suffering from cocoa syndrome, which raises the following puzzling issue: why wouldn't brown makeup work on brown skin when they're in the same colour family? The answers lie in texture and the true nature of skin colour. Matte blush atop attah-syndrome skin looks like layers of dust. Plus, merely classifying skin by its colour dismisses the undertone that gives skin life.
I was thrilled to discover the Bobbi Brown Glow Stick in Desert Sun, a mauve brown — not a pure brown. It slicks on like a gloss, melds in with light-to-medium skin tones (dark skin will glow with Island Plum) and stays all day. Its sheerness allows you to build intensity and attracts light to your cheekbones.
Lips: The Focal Point
The facial feature that truly heralded the nineties was lips. Matte, lined or glossy, lips were always making a statement — much in the way that eyelashes make the look today.
I recall how I prepped my lips with balms from tins. In reality, I coated my dead skin in heavy wax, which didn't hydrate my lips. The modern tin equivalent that actually delivers hydration is Fresh Sugar Lip Caramel Hydration Balm. It seeps into the lips and lets you apply the product without creating a goopy mess.
Fresh would have been welcome on days when I opted for a lip gloss that never truly attached to my lips yet always attracted my hair! Benefit Punch Pop! lip glosses bring back the old-school feel with modern technology. These glosses are pigment-rich, shiny, thick (not gloppy) and long-lasting.
One unfortunate trend that I admit to having seen (but I'll never confirm if I practiced it!) was the dark liner and pale lips.  I can't fathom how the stark contrast could have been flattering, and when I saw Givenchy Le Rouge Sculpt, I cringed.  However, when I tried Sculpt'in Rose — which has a marsala outline and a deep pink centre — I understood that the trend works when the colours are in the same family and applied to create gradient rather than a stark contrast of colour. The marsala outlined my lips while the rose pink plumped the centre.
Like with complexions, the "matte is flat" approach choked and shrivelled lips in the nineties. Thankfully, modern technology has redeemed matte lip products in two ways. First, Estée Lauder Sheer Matte Sculpting Lipsticks leave a perfect, professional finish without shine or dryness. Matteness and sheerness — which are traditionally opposed — are fused in this line of lipstick.
Second, Make Up For Ever Artist Liquid Matte redefines liquid lipstick. The product glides on, settles on the lips without clinging to the lines and lasts all day.
Finally, there was the nude lip. I purchased many beige lipsticks in the hope of achieving this look. After all, if there's a red for every woman, why not a nude? What I know now is that, when searching for a nude, you need to add pink as the lips get darker. I noted with delight that Charlotte Tilbury K.I.S.S.I.N.G. in Penelope Pink is my perfect nude even though it's pink. The key is to see which shades imitate the flesh on your inner bottom lip and disregard ubiquitous terms like "nude," "flesh" or "naked."
Fragrance: The Final Point
In the nineties, CK One created a revolution as the first fragrance touted as equally ideal for men and women. It was a soft citrus-fresh scent and a departure from the dramatic fragrances of the eighties. CK One reminded the public that fragrance molecules are genderless and what counts is how they work with your skin.
Jo Malone English Oak & Redcurrant Cologne is the modern-day reminder of this message. Fruitiness tempers its traditional woody essence. The end result is that you and the men in your life can spritz this fragrance with confidence, and all of you will smell lovely. I smell like the last berries on the bush before fall arrives.
Exploring how new products and technology have upgraded nineties trends with modern sensibilities is like a blast from the past in my vanity case. The key is to know your skin and embrace the idea that "changement n'est jamais pareil."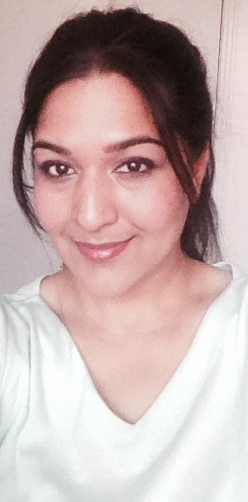 Author
Meena (@meenalaregina) always loved the idea of exploring the non-conventional idea of beauty. Having grown up as a pimply chubby teenager, she wanted to see the change in the world that best reflected your uniqueness as well. Her well-received collection of blogs where she tries on various beauty p...