Fashion /
A Powerful Statement: The Best Dressed At The ANOKHI POWER Ball 2018 15th Anniversary Gala
A Powerful Statement: The Best Dressed At The ANOKHI POWER Ball 2018 15th Anniversary Gala
Fashion Nov 08, 2018
ANOKHI Media's most glam night of the year brought the global South Asian community of movers and mavericks to the Sheraton Centre Toronto. Themed "Diwali Masquerade" masks were donned while guests also dialed up their sartorial choices with some serious style. Among many, here some who we thought were best dressed at the ANOKHI POWER Ball 2018 15th Anniversary Gala. 
Sangita Patel
ET Canada's  Sangita Patel, who hosted one of the fireside chats during the ANOKHI POWER Summit 18  during the day, looked stunning at the gala that night in a Mani Jassal number which included the Raat Ki Rani top and the 7.4 Slit Skirt in black.
Horsepowar
Horsepowar who also was one of the featured performers that night wowed the crowd in a Mani Jassal La Reve sari slit wrap skirt with the Sim Simma bustier.
Raj Girn
President and CEO of ANOKHI MEDIA wore a stunning embellished couture design by Dinesh Ramsay.

Veronica Chail
This journalist, producer and human rights activist shined on with her fabulous layered look which went next level with her moto-inspired jacket.
Aarti Pole
This CBC News Network host & journalist and one of the featured hosts of the ANOKHI POWER Summit 18, glittered in a gorgeous corsetted mirror blouse with a layered shimmering lengha.
Tamanna Roashan
Founder of the globally renowned @DressYourFace, an ANOKHI Award recipient as well as one of the featured speakers at the ANOKHI POWER Summit 18, wore a stunning silver feathered ensemble with mesh slits by BChicFashions. 

Best Dressed Couple

DJ Fizza
DJ Fizza brought some edgy fusion with a gorgeous off-the-shoulder feathered sleeve blouse paired with a cute mini by Dinesh Ramsay. 

Sonia Jhas
Health and  Wellness expert and lifestyle coach, Sonia Jhas rocked the red carpet in this stunning body-hugging gown by City of Angels. 

Main Image Photo Credit: www.instagram.com; www.nisargmediaproductions.com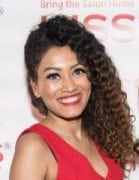 Author
Marriska (@marriska.fernandes) is an entertainment expert who has been creating celebrity, movies and pop culture content for digital outlets for over ten years. From reporting headline-grabbing celebrity news to reviewing movies to interviewing Hollywood and Bollywood's finest actors and industry...