Tips To Help Your Teen Have A Great Prom
Culture & Lifestyle Jun 01, 2014

It's prom season and we've rounded up the top tips to guarantee your teen has a safe and fun night.
Prom season is starting and if you're a parent you're probably wondering what advice to give to your child. So where should you start? Here are a few tips that you can share with your teen and set them on the right track for a foolproof night of fun.
Plan Ahead
Like with any good event, planning ahead is key. Start with talking together and knowing the transportation plan. Are they going to arrive in a limo? Discuss the budget and don't feel pressure to spend outside it. Which restaurant are they having dinner at? Deciding ahead how the bill will be split is important.
Don't Stress The Dress
Of course, every teen wants to look perfect on prom night, so make sure that she shops at least three weeks ahead so there is time to evaluate the options. Choosing a cocktail dress or gown that makes her feel pretty and comfortable is essential (and so is a well-fitted suit for guys). If alterations are needed, make sure they plan in advance.
Minimal Makeup
Whether she wants to go simple and elegant or glitz and glamorous is all up to her – but encourage her to not overdo it. Keep it clean and chic and sweat-proof (especially if you know she'll hit the dance floor). Splurge on a great eye shadow or eyeliner as a fun mother-daughter bonding activity.
Purse Essentials
Stash a supply of safety pins, chewing gum, hairpins and tissues in her clutch as they definitely come in handy. Send a pair of comfy flats because those pumps are going to do a number on her feet before the night ends.
Safety Rules
Teens need to know when to draw the line. Don't drink and drive is one thing, but make sure both boys and girls feel comfortable to call home if needed and have a safe alternate ride planned. Remind your teen not to do anything that he or she will regret seeing on social media.

Most importantly, try to let them have fun! It's one night they'll probably remember forever, so try not to stress it and have a blast watching them grow up and taking this big step!
Featured Image: .moneycrashers.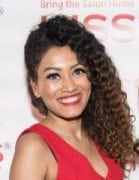 Author
Marriska (@marriska.fernandes) is an entertainment expert who has been creating celebrity, movies and pop culture content for digital outlets for over ten years. From reporting headline-grabbing celebrity news to reviewing movies to interviewing Hollywood and Bollywood's finest actors and industry...