Showbiz /
JFL Exclusive: How Comedian Zarna Garg Showed Kevin Hart That Brown Women Can Be Funny Too
JFL Exclusive: How Comedian Zarna Garg Showed Kevin Hart That Brown Women Can Be Funny Too
Showbiz Jul 20, 2023
In our two-part special we sit down with two South Asian comedians who are making their respective sold-out appearances at this year's Just For Laughs Montreal, the world-renowned comedy festival that has stops in Toronto, Vancouver, Sydney and London. From New York (by way of Mumbai), Zarna Garg (IG, TikTok and Twitter: @zarnagarg), winner of Kevin Hart's 2021 Lyft Comics, is a Tiktok sensation who makes clean comedy hip and insightful, with an aunty twist. While prepping for the JFL's shows, Truth Bombs on July 26 and 27, 2023, and Just for the Culture, formerly known as the Ethnic Show which runs from July 18 to 22, 2023, she chatted with us about her academic credentials, the careers that led to her comedy, the impact of the legendary Kevin Hart and her preparation for her JFL appearances.
Just for Laughs Montreal is an internationally renowned comedy festival, which began in 1983 at the Saint-Denis Theatre. The festival is like the Olympics for comedians around the world ranging from icons to newcomers, and its mission is to make people laugh. The festival has succeeded in making millions of people laugh, and this year the festival runs from July 14 until July 29, 2023, inclusive.
The Foundations: Finance And Law 
The hard work and discipline to pull off double duty at the festival is one of many accomplishments that Zarna Garg, Esquire is rooted in her stellar academic credentials.
When asked why she chose finance (yes, finance!) for her undergraduate (BSc) studies, Zarna quipped, "I didn't know any better. I came from a world where everyone did math or science, even right now most of my family members are doctors and those who aren't doctors, do something in math. They are traders or they're working on Wall Street."
Contrary to the popular stereotype, that finance is a boring, nerdy path, Zarna relished her undergraduate studies and recognised its value, "I come from a world where finance made the most sense," She explained. "In America, a degree in finance felt like it might be filling a gap. I came to America under stressful conditions so I was so happy to go to college and have something that I could learn. I enjoyed the way that things were taught in America. In the first two years, there are a lot of basic classes, so you get the foundation, and whatever you missed, you get it in college. I was excited to go down this whole path."
One would think that after a BSc in finance,  Zarna pursued a Juris doctorate, and became a lawyer in the State of New York, and all the while she continued as a hobby, making funny speeches to entertain family, friends and colleagues.  She reveals that one element of legal studies that propelled her to obtain this second degree was her love of language, "I love the idea of obsessing over words and punctuation, and 'why did he say it this way…' Funnily enough all of that translates so well into comedy, as that's how comedy jokes are written."
Regardless of her own studious and comedic paths, for her beloved young Tiktok followers, her online personality Aunty Zarna stresses, "Whatever you do, stay in STEM!  Do not become an artist just because Aunty Zarna is an artist."
When It Comes To Motherhood "Laughter Is The Ultimate Medicine"
Zarna's path continued from a lawyer into full-time motherhood during which she raised three children.  Throughout this stage of her career, she further developed her comedic skills as a form of stress relief for herself and her loved ones, "Motherhood, I would argue is being a lawyer, an engineer, a surgeon, a financier combined. It is a 24/7 non-stop endeavour." The intensity of this career necessitates humour, "I relied on humour to keep the balance in the family because children do a lot of things that could upset you.  Your life is very stretched when the kids are little. If you don't have humour, you are going to lose your mind. It could get dark really fast, so I relied on humour to make it light for my family. Laughter is the ultimate medicine. Laughter is also a weapon or an art form. For those who are strategic, laughter can open a lot of doors, and it has for me."
The Plunge Into Comedy 
Up until Zarna decided to take the "official plunge" into comedy with the full support of her loving family, her comedy had been on an ad hoc basis, "For a long time I was doing my funny speeches. Stand-up comedy is not really a thing in the world that I come from. No one was going to stand-up comedy shows, and no one was hiring comedians but any time there was a family or corporate event, and I was around, people would just hand me the mic and say, "You say something."' She reflects on all of those speeches and concludes, "My life in comedy is a build-up of all those years of making funny speeches. It was all done on the fly, there was no real deep thinking behind it.  When I reflect on it now, it feels like it was the beginnings of stand-up comedy."
She entered the world of seasoned stand-up comics, assuming, "…. that there must be a lot of Indian mom comedians all over the world. I was so busy raising my kids that I really thought that this must all exist." Her finance-business training and entrepreneurial spirit quickly helped her conclude that her comedy was unique, and she developed her business model, "I like learning about what makes businesses work. When I realised that no one else was doing what I was doing, it opened a world of business possibilities. I asked, "What is it about our culture that doesn't seem to prioritise this type of humour or this type of entertainment?" I started digging in that space and the business around comedy was born."  Zarna specialises in clean comedy, i.e. nani-dadi-pota-poti approved, in which there is no swearing or profanity.  This model permits her access to corporate business events, does not hinder her path in comedy clubs, and caught the attention of the legendary Kevin Hart.
One of Zarna's most notable achievements to date has been winning the 2021 Lyft Comics. She was recruited by Kevin Hart's team, and this moved her, "I didn't have a manager. I didn't have an agent. I was like, "How did you guys find me?" They must have found me performing under a tree." Jokes aside, Zarna  salutes Kevin's team, "Kevin Hart runs a very forward thinking company, and it's not shocking that he wasn't waiting for a late night debut of some comic on a late night show. The fact that his people were on the ground, trying to figure out what was happening was very inspiring and very encouraging to me."  She confesses that her ongoing career as a mother imbued her with a distinct advantage over the other contestants, "I drove people around and told the passengers jokes who didn't know that we were comics.  I'm a mom and I have been driving kids around for 20 years, telling jokes, so that was so easy for me. I almost felt like I had an unfair advantage".
Truth Bombs & Cancel Culture
Even though Zarna specialises in clean comedy, her jurist side comes to the fore when it comes to defending the American doctrine of the freedom of speech for all comics in the face of censorship and cancel culture, "It's a challenging time across the board. I completely believe in free speech all the way. I think that every artist will find their audience, there will be people who won't like what you and that's just life. There are people who will connect with your brand and it's your job to build that community and service them. If you go on my social media pages, there are haters all over, under every post. I have no problem with them. I will not be stopped by them. I have 1.5M followers that also love my work, so I focus on them."
Zarna will bring her masala wit to JFL for several nights and she says with a bright smile, "Just for Laughs is the most prestigious festival, without a doubt," but she is not intimidated as she sees these shows as davaats, "The way that I approach all my shows is that I am having a big, extended dinner party. I try not to get intimidated by it, so that I can focus on what I am there to do.  Somebody very wise once said to me, "Do what brought you here."' Undoubtedly, Zarna's zen focus and masala wit will make thousands of dinner guests laugh and smile.
The heart of Zarna's art will be part of each course of her dinner parties, "I wish to bring the great Indian experience to everybody. I want everybody to know that Indian people are fun-loving, vibrant and that we have our own neuroses, like every culture. We come with love, we spread love wherever we go, we are very joyful, especially brown women which somehow that portrayal has been missing in major media."
Congrats to Zarna and check out Just For Laughs Montreal website for full festival details along with ticket information at www.montreal.hahaha.com. 
Main Image Photo Credit: Just For Laughs Montreal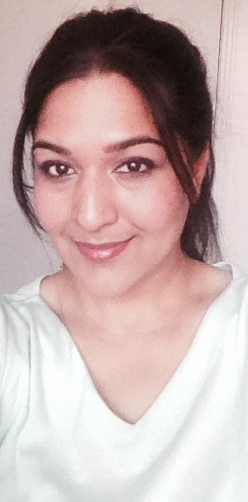 Author
Meena (@meenalaregina) always loved the idea of exploring the non-conventional idea of beauty. Having grown up as a pimply chubby teenager, she wanted to see the change in the world that best reflected your uniqueness as well. Her well-received collection of blogs where she tries on various beauty p...