Showbiz /
4 Ways Alia Bhatt Steals The Show In The Hot Netflix Film "Heart Of Stone"
4 Ways Alia Bhatt Steals The Show In The Hot Netflix Film "Heart Of Stone"
Showbiz Aug 24, 2023
The new Netflix film Heart of Stone dropped on the streamer last week and one thing is hard to miss: Bollywood's leading actress Alia Bhatt at the forefront of the film. Here are four ways that Alia steals the show! 
Alia Is Given A Central Role For Her Hollywood Debut — One thing is not hard to miss: Other Hollywood titles that cast Deepika Padukone or Priyanka Chopra Jonas did not give the deserving leads a central, meaty part as their first Hollywood role. Instead their first foray into Hollywood had them relegated to supporting roles. But in Heart of Stone, Alia (who plays the calculating villain Keya Dhawan), has just as much screen time as Gal Gadot and Jamie Dornan. Not bad at all for her Hollywood debut.
A Serious Globetrotting Adventure — the film takes viewers on a trip around the world as locations Italy, Morocco, Lisbon, Iceland and London.
A Spy Thriller With A Twist — If you liked Bond and Bourne Legacy, this film is right up your alley. It's got the classic spy thriller ingredients with a fresh script for a wide audience.
The Promise Of More — In keeping with the tradition of the streaming world, if the audience loves the film, we might just get a sequel and we would love to see Alia return to the Hollywood spy franchise. Our fingers are crossed!
Her leading role in Heart Of Stone was also evident throughout the global promotional tour where Alia was alongside her two co-stars. Something tells me that this is the beginning of Alia's beautiful friendship with Hollywood!
Main Image Photo Credit: Netflix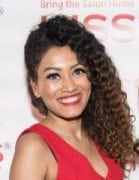 Author
Marriska (@marriska.fernandes) is an entertainment expert who has been creating celebrity, movies and pop culture content for digital outlets for over ten years. From reporting headline-grabbing celebrity news to reviewing movies to interviewing Hollywood and Bollywood's finest actors and industry...